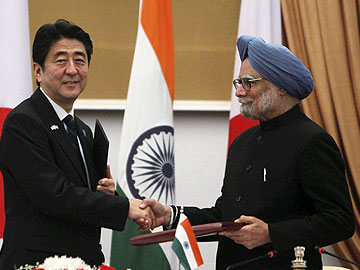 New Delhi:
India and Japan's talks on nuclear cooperation have gained momentum over the past few months and the two hope for an agreement on civilian nuclear energy soon, leaders of the countries said after meeting on Saturday.
"Our negotiations towards an agreement for cooperation in the peaceful uses of nuclear energy have gained momentum in the last few months," Prime Minister Manmohan Singh, said in a statement after meeting his Japanese counterpart Shinzo Abe.
The Japanese prime minister said in a separate statement they had agreed to continue talks "with the view for early conclusion".
Abe's three-day visit to India, which started on Saturday, is underscoring growing business and political ties between the two countries as they face mutual rival China.
An agreement on civilian nuclear energy would open up the Indian market to Japanese players, reflecting another shift in Tokyo's policy on a sensitive issue.
Japan is also looking to sell ShinMaywa US-2i planes, built by ShinMaywa Industries, that could be outfitted for fire-fighting or as a kind of amphibious hospital and cost an estimated $110 million per unit.
A joint working group has met to explore ways to cooperate on its use and production in India, Singh said.
The two countries are also cooperating on several infrastructure projects.

NAVAL EXERCISE
Japan would extend India a loan of about 200 billion yen for the extension of Delhi's metro rail system, Abe said.
He added the two sides had also agreed to step up cooperation on high-speed rail systems.
Abe will be the first Japanese Prime Minister to witness India's Republic Day celebrations on January 26.
India also invited Japan to the Malabar joint naval exercise this year. Indian and US navies conduct their annual Malabar joint exercises in the Bay of Bengal once a year.
© Thomson Reuters 2014