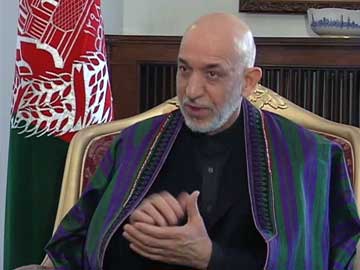 Kabul:
Encouraging Indian businesses to invest in Afghanistan, President Hamid Karzai, who is in New Delhi to push for more military co-operation, said returns for them in the country are much higher than the risks. He is scheduled to meet businessmen and the three chambers of commerce and industry in Pune on Saturday.
"Indian business has been shy. From the very beginning it has not been as forward coming as the Chinese and others. Even South Africa has invested in Afghanistan. MTN has invested in telephones and communications. I would again request, rather urge our Indian partners in business to come forward and invest," Mr Karzai told NDTV in an exclusive interview at the Presidential palace in Kabul.
On the $ 11 billion dollar Hajigak iron ore, President Karzai denied that Afghanistan's laws were responsible for the delay in the deal. "They will be shortly passed and then signed and then be put in to the gazette," President Karzai said.
The Afghan Iron and Steel Consortium (AIFSCO), which consists of state-owned SAIL, RINL and NMDC holds a combined 56 per cent stake in the bids won for the Hajigak mines in relatively peaceful Bamiyan province. The balance is held by private players JSW, JSPL and Monnet Ispat & Energy. Afghanistan is estimated to have over $ 3 trillion in mineral and petroleum wealth. But, even though China stole a march over India in the $ 3 billion Mes Aynak cooper mines just south of Kabul in Logar, that deal too has been stalled.
President Karzai denied elections in both countries would delay the project, saying that if India comes forward before April, when the presidential polls are scheduled to be held in Afghanistan, the deal would move forward. "India has to just come forward and get the deal through," he added.