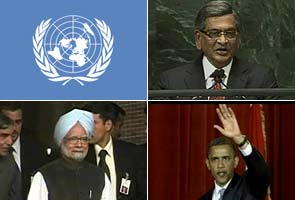 United Nations:
It could well provide the push for India's agenda for reforms in the United Nations. After a gap of 19 years, India formally took its place in the UN Security Council as a new non-permanent member for a two-year term.
Along with India, Germany, South Africa, Columbia and Portugal too took their places at the powerful 15-member body of the United Nations.
Regarded as a key emerging political and economic power, India would be the president of the powerful Security Council in August and again later next year, most likely in November 2012, during its two-year term. India is also likely to be given a key responsibility of heading one of the two key counter-terrorism committees of the Council during its term.
Diplomatic sources privy to the discussions at the United Nations headquarters in New York said that talks are in advance stage to request India to head one of its two key counter-terrorism committees.
India, along with other emerging countries, has been pushing for a reform of the United Nations to reflect the realities of the present day world. It has also sought an expansion of the UN Security Council to include new permanent members, and has joined hands with the G4 countries (Germany, Japan, South Africa and India) to push for the expansion. Excluding Japan, all the three countries now find themselves in the Security Council as non-permanent members and are expected to push their agenda jointly.
The five existing non-permanent members are Bosnia, Brazil, Gabon, Lebanon and Nigeria, while India along with Germany, Portugal, South Africa and Columbia joined the Security Council as its new non-permanent members on January 1. India, so far has been elected to the Security Council for seven times including the current 2010-2012 term.
Issues related to counter-terrorism, UN peacekeeping operations and human rights would be the top priorities of India as it joins the powerful Security Council after a gap of 19 years, New Delhi's top diplomat to the world body said.
"One of our major pre-occupation is the issue of terrorism. I expect that in the coming months we would have to address that issue through the work of the Council," Hardeep Singh Puri, India's Permanent Representative to the United Nations said.
As such India will prepare for a key role in the two committees of the Security Council, the 1267 and 1373 committee, Puri said. 1267 is the Security Council Sanctions Committee concerning al-Qaida and the Taliban and individuals and entities associated with those organisations.