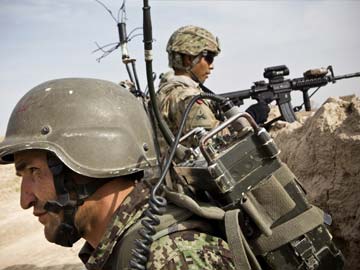 New Delhi:
India is training a group of Afghan special forces in the deserts of Rajasthan, army officials said on Friday, deepening its involvement with Afghanistan as its military prepares to secure the country after NATO's withdrawal in 2014.
Afghan military officers have been attending courses in India for years, but this is the first time members of its special forces have held joint exercises with Indian commandos.
Afghanistan has been pressing India for military equipment including helicopters, tanks and field guns as well as greater involvement in the training of Afghan forces as foreign troops withdraw, leaving the Afghan military to deal with a resilient Taliban insurgency.
India has stalled on Afghanistan's wish-list of heavy weapons for fear of provoking Pakistan, as well as armed groups in Afghanistan.
But on training, it has begun to play a bigger role as Afghan forces prepare to go it alone.
Nearly 60 members of the Afghan special forces began training with the Indian army's 10 Para brigade early this month at their hub in Jodhpur, in Rajasthan state's Thar desert.
"The focus of the training is on conduct of counter insurgency and counter terrorism operations, with special emphasis on operations in built-up areas and rural areas in a realistic environment," Colonel S.D.Goswami, a defence spokesman said.
The Afghan special forces, which the United States helped set up, are expected to be the spearhead of the fight against the Taliban.
The training in Rajasthan is focused on carrying out operations with minimum civilian casualties and of other so-called collateral damage, another Indian army officer said.
AVOIDING CASUALTIES
Indian commandos deployed in trouble spots such as the Himalayan region of Kashmir had over the decades succeeded in bringing down civilian casualty rates, he said.
"We have just been in this game for a longer time, and bombing a home whether in Kashmir or the northeast is just not part of our operating procedure."
Civilian casualties in anti-Taliban operations in Afghanistan have deepened resentment of U.S. forces, and in turn, fuelled the insurgency.
Afghan President Hamid Karzai, who was in Delhi last week, is refusing to sign a security agreement that would allow the United States to keep a limited number of troops in Afghanistan beyond 2014, saying it must immediately stop raids on Afghan homes as a condition.
Lieutenant General Prakash Katoch, a former commander of Indian special forces, said joint commando training is to be expected as military ties with Afghanistan deepened.
"We do it with friends, we have done it with the Americans, its quite natural," he said.
India, which has built close ties with Karzai's administration and has invested $2 billion in aid and reconstruction, is concerned that an unstable Afghanistan would become a haven for Pakistan-backed militant groups.
Last month, it held training for special forces from Tajikistan, which is to the north of Afghanistan.
© Thomson Reuters 2013