Highlights
Congress won just 7 seats in Uttar Pradesh (of possible 403)
Worst-ever performance, campaign led by Rahul Gandhi
No need for him to step down, say Congress leaders
New Delhi:
After his party won just seven of a total of 403 seats in Uttar Pradesh, Rahul Gandhi, who starred in the campaign and directed strategy along with sister Priyanka, described the result "as a little down".
The 46-year-old's appraisal is vastly at odds with senior party leaders who are acknowledging the verdict of India's politically most strategic state as a debacle and asking for urgent "introspection."
Mr Gandhi, who has been criticised for not being seen till this morning since results from five states were announced on Saturday, said, that "in opposition, you have ups and downs. We had a little down in UP, we accept it." While faulting the BJP for running what he described as a polarising campaign in Uttar Pradesh, he acknowledged, "(but) the fact is they won the election. However, they did it, they won the election."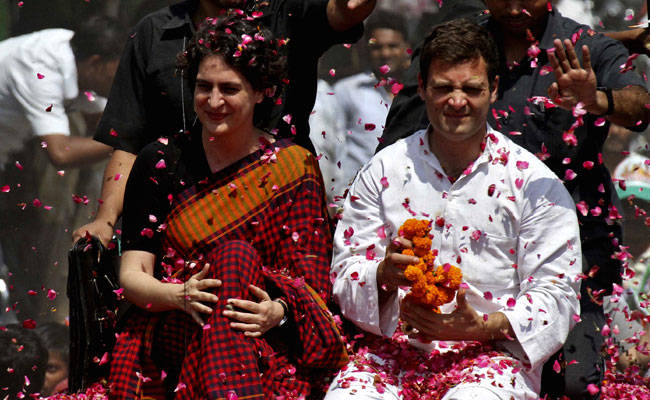 Congress leader Renuka Chowdhury, like other colleagues including Digvijaya Singh, emphasised that "Rahul is not responsible for the losses... he has never shied away from responsibility," but acknowledged that the party needs more than the standard "introspection" promised after every loss. "The problem is a lot deeper than what you are seeing," she said to NDTV.
Since 2014, when the Congress promoted Mr Gandhi to its top-billed campaigner, the party has yielded one state after another, failing to discuss a much-needed regeneration.
The party, which orbits the Gandhi family and has no inhibitions about saying so, won Punjab, though its success there is attributed largely to the
innovative campaign of 75-year-old Captain Amarinder
Singh, who will take oath as Chief Minister on Thursday, returning the Congress to power in the state after 10 years.
The Congress placed first in Goa and Manipur, but did not win a majority.
It is struggling to beat the BJP to form the government in both states,
where its effort to collect
essential support from smaller regional parties was a self-inflicted wound
. However, the Congress claims that the BJP is being given unfair preference, and that as the second-largest party, it should not have been invited to form the government in Goa. The Supreme Court did not seem to agree. Today, its judges said that the Congress has failed to offer evidence that it has the majority support of newly-elected legislators in Goa; a trust vote for the BJP Manohar Parrikar as Goa's Chief Minister has been ordered for Thursday.
"There were five state elections, two of them were won by the BJP and three by the Congress, and in two of the states where we won, democracy has been undermined by them using financial power, money. That is what has happened. The mandate of the people of Goa and of the people of Manipur has been stolen by the BJP," proclaimed Mr Gandhi today. But Ms Chowdhury conceded that "Goa was a lost opportunity" and party colleague Satyvrat Chaturvedi admitted "We were slow in Goa."