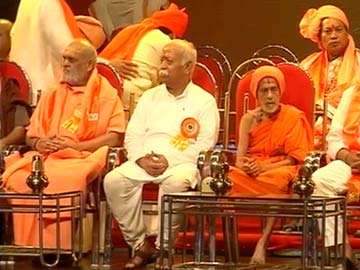 Mumbai:
In one speech, Mohan Bhagwat, the chief of the Rashtriya Swayamsevak Sangh or the RSS, has delivered two political controversies.
At a function in Mumbai on Sunday, Mr Bhagwat said, "For the next 5 years we have to work with the aim of bringing equality among all the Hindus in the country. All Hindus should be drinking water at one place, should be praying at one place and after their death, their bodies should be burnt at the same place."
The RSS is the ideological mentor of Prime Minister Narendra Modi's BJP.
In Mr Bhagwat's comment, many read a political strategy to win over Dalits and consolidate Hindu votes in Maharashtra and Haryana - a factor believed to have contributed to the BJP's sweep in Uttar Pradesh in the national election. The party won 71 of UP's 80 seats.
The polarization after the Muzaffarnagar communal violence last year was seen to have dissolved deep-rooted caste lines and helped the BJP, which has for years been perceived as a party for upper caste Hindus.
In the absence of a divisive factor like the Muzaffarnagar riots, the BJP is reportedly banking on the "equality among Hindus" mantra in Maharashtra and Haryana. The party is desperate to win the state polls, knowing these will be seen as a referendum on the new government.
A senior Maharashtra BJP leader said, "The BJP needs to arrest division of votes on caste lines. The weaker sections and minorities eventually end up being on the same side and helping the Congress and others."
Another remark by the RSS chief at the same function has also provoked strong political reactions. "Hindustan Hindu Rashtra Hai (India is a country of Hindus)," Mr Bhagwat said, repeating what he had said last week.
Union minister Ram Vilas Paswan, said, "The RSS is pursuing its own agenda but it's a BJP-led government and PM Modi has not said anything controversial in the past one year."
Congress leader Manish Tewari told NDTV, "It is very evident that with the active connivance of the central government there is an attempt towards religious polarisation."