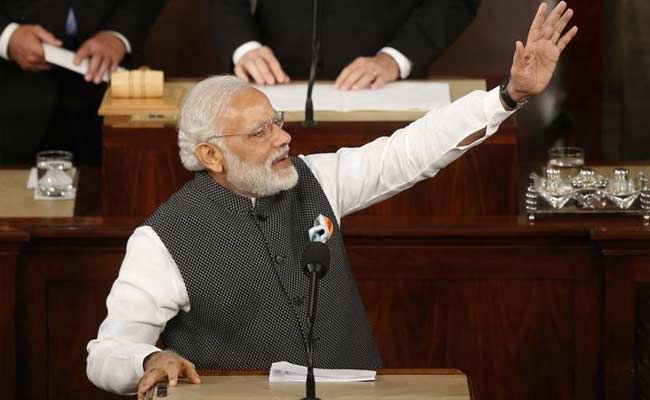 Highlights
PM Modi dedicated much of speech to importance of fighting terrorism.
Prime Minister also thanked US for its support during Mumbai attacks.
He also leavened speech with jokes about Congress' partisan divide.
Washington:
Prime Minister Narendra Modi did not name Pakistan today but had a clear message in his
speech to the US Congress
: terrorism "is incubated in India's neighbourhood," he said, stressing that those who harbour, support or sponsor terrorists, and separate religion from terrorism must be "isolated".
In a speech regularly interrupted by applause, Mr Modi did not mention China either but at as concerns grow for disputes over the South China Sea, he said "India also help ensure security of the sea lanes and commerce and freedom of navigation on seas."
The PM is the fifth Indian leader since 1985 to
address a joint session of the US Congress
, and the first foreign leader to be invited to do so this year.
This three-day visit is the fourth time that the PM has travelled to the US since he took office. He met yesterday with President Barack Obama, who reiterated America's support for India's entry to the NSG (Nuclear Suppliers Group), which currently has 48 countries who trade in sophisticated nuclear technology and material while ensuring it is not used for weapons.