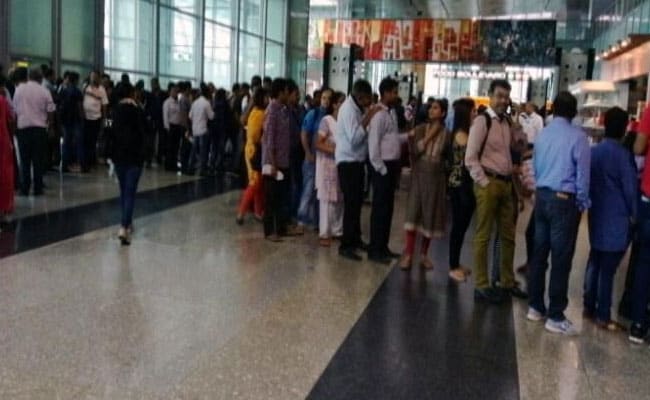 Kolkata:
Passengers from Lucknow flying into Kolkata have ended up at Varanasi. Those from Bengaluru have ended up at Guwahati and a flight from Mumbai ended up in Dhaka.
Those flights that finally managed to land in Kolkata did so with passengers shaken and stirred, such was the turbulence caused by cross winds.
Seldom has Kolkata Airport been so badly hit by a depression over the Bay of Bengal.
Among those who made it was Bob Biswas of
Kahaani
fame, the actor Saswata Chatterjee. "We flew from Lucknow, came to Kolkata and, just as we were landing, the pilot suddenly flew up at a 70 degree angle. He couldn't land apparently because of the strong winds," said Mr Chatterjee.
His travel companion was filmmaker Arindam Sil who had taken a crew to Lucknow to shoot a sequel of his film 'Ebar Shabor'. "The turbulence was terrific in the last 15 minutes," said Mr Sil. "Before that, the pilot had tried to land in Kolkata but was forced to fly off and go and land at Varanasi instead. When we finally flew back, the plane hovered over Kolkata for 80 minutes, and finally landed. Many thanks to the pilot that we are safe," he added.
A young man was waiting with two bouquets at the airport. "I am here since 7:30 am and now it is 3:30 pm," said Aniruddha Gupta.
"I am not waiting for a girlfriend but for business clients who flew in from Turkey to Mumbai. They took a flight to Kolkata, but are currently sitting in Dhaka. I am frustrated and so are they," he added.
Aniruddha Gupta was not alone. Hundreds of people were milling around outside airport waiting for relatives to arrive. And while they agreed no one could do anything about the weather, they felt that the airline and airport authorities should have handled the crisis better.
"All these fancy electronic boards at the airport, the information on them is not updated regularly and we are in the dark about the flights," said Mandar Sengupta, waiting with her daughter for her husband to arrive from Lucknow, six hours behind schedule.
Not just the airport, the city too was badly hit. Trees fell on arterial roads at almost 20 different places - Gariahat, Kalighat, Sarat Bose Road, Narkeldanga, Alipore, Salt Lake, Lake Town - badly disrupting traffic.
Police and civic teams had to cut the trees with electric saws. That took time, plus waterlogging on some arterial roads and traffic was a nightmare in the city today.
Train services were also disrupted briefly. Ferry services across the Hooghly river from Kolkata to Howrah were withdrawn because of high tides and strong winds.
There was, however, no report of any loss of life but all of southern Bengal was affected. The met office says things could get worse before they got better. The depression over Gangetic West Bengal has intensified into a deep depression, heavy to extremely heavy rains are likely in the next 24 hours.
Jharkhand and north Odisha may also be affected.
Squally winds gusting at 45 to 65 kmph are likely, the sea will be rough and fishermen are warned not to venture out in the next 24 hours at least.
The state government has opened several control rooms to keep tabs on the situation.