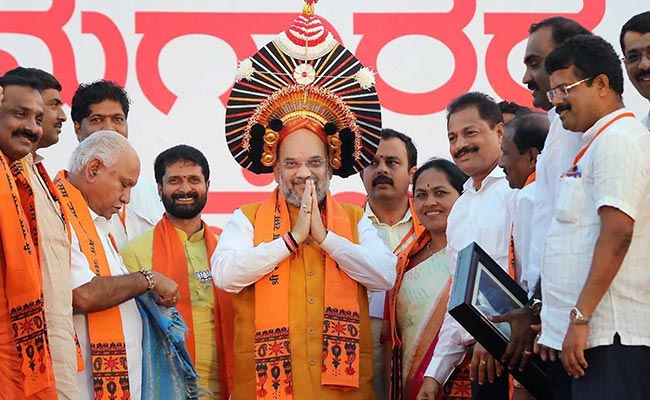 Bengaluru:
BJP president Amit Shah, in Karnataka to campaign for assembly elections due soon, today accused chief minister Siddaramaiah of the Congress of "playing politics of appeasement," asking why no first information report or FIR was registered against M N Haris, the son of a Congress lawmaker and who is accused of beating up a man at a restaurant in Bengaluru on Saturday.
"If Siddaramaiah thinks politics of appeasement will be successful, he's wrong. The latest example of appeasement politics in Karnataka is where son of MLA Haris thrashed a man but there was no FIR. Why? Not only because he's Haris's son but because it involves appeasement and vote bank politics," alleged Mr Shah at a rally in Dakshina Kannada's Sullia.
The Bengaluru police had in fact filed an FIR against lawmaker N A Haris' son the day after the incident, accusing him of thrashing a man who had placed his bandaged leg on a table at a restaurant in an upscale mall in the city. Mohammed Haris surrendered to the police yesterday after a stern warning from Mr Siddaramaiah and was produced before a city court that sent him to police custody for two days.
Addressing reporters in later in the day, Mr Shah re-iterated his charge of "appeasement" against the Siddaramaiah government, saying, "There is a limit to vote bank politics. The home department gives circulars to take back cases filed against people of minority communities." He alleged that there has been "selective targeting of BJP karyakartas. Many of them have been killed" in Karnataka, adding, "Ideological victimisation, political victimisation, I have never seen such crimes anywhere."
He said he is confident that the people of Karnataka will reject the Congress in this year's election, calling the Siddaramaiah government "the most corrupt government ever."
This year, the BJP hopes to wrest from the Congress the only southern state that it has ever ruled. Months ahead of the elections, Mohammad Haris' arrest has given it big ammunition against the ruling party.
The Congress attempted to move fast to limit damage, ensuring Mr Haris' surrender and expelling him from the party for six years. Mohammad Haris was the general secretary of the Youth Congress in Bengaluru district.
Yesterday, the police slapped tougher charges -- attempt to murder -- against Mohammed Haris that carry a maximum punishment of life imprisonment.
"A case has been registered, probe is on. We have seized CCTV footage and have arrested seven people, including Mohammed Haris," said a senior police officer Dr Chandragupta today.