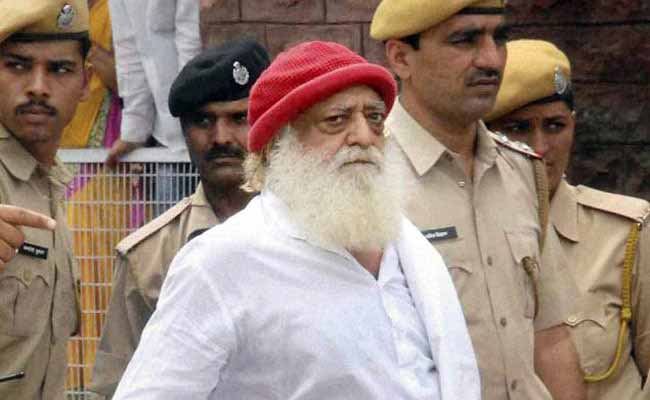 Highlights
Asaram Bapu is in a Rajasthan jail since 2013 on rape charges
"Why haven't you examined the victim," the court asked Gujarat government
Gujarat government replied that it is Asaram who is delaying the trial
New Delhi:
Asaram Bapu has been in jail for more than four years but a woman who has accused him of rape has not been questioned yet, the Supreme Court noted today, asking Gujarat about the delay in the spiritual leader's trial.
"Why this delay in trial? Tell us why you haven't examined the victim yet?" the court told the Gujarat government, ordering it to submit a progress report.
The 76-year-old guru has been in a Rajasthan jail since August 2013 over allegations of raping a 16-year-old schoolgirl at his ashram earlier that year.
Two months later he and his son Narayan Sai were booked for the alleged rape of two sisters at their ashram in Gujarat's Surat. The trial is pending in a court in Gandhinagar.
The Supreme Court is hearing Asaram Bapu's request for bail. In arguments today, the Gujarat government said it was the so-called "godman" who was delaying the case.
Earlier this year, the Supreme Court had asked that the evidence of the woman and other witnesses be recorded without any more delay. Over 40 witnesses are believed to have still not recorded their statements.
"Don't linger it. This is what we want to say (to) you (Gujarat). Expedite the recording of evidence," the judges said in April.
The Supreme Court has
refused to grant bail
to Asaram Bapu on various grounds. He has often claimed poor health.
In the time that Asaram Bapu and his son have been in jail, six witnesses have been attacked and two have died.
Last week,
another self-styled Guru
, Gurmeet Ram Rahim Singh, was found guilty of raping two followers in 2002. After he was convicted, violence erupted as thousands of his followers burnt cars, damaged property and targeted residents in some Haryana cities. Police say 38 people have died in the violence.