Patna:
Highlights
Mr Kumar's supporters roughed up the two men who showed him black flags
The men were detained by Bihar police for questioning
Mr Kumar was arrested on sedition charges in February, released on bail
Shown black flags at a function in Patna, JNU Students' Union (JNUSU) leader Kanhaiya Kumar hit right back today. "I am colour blind... when they show black flags, I see saffron flags," said Mr Kumar, who has been making a tour of the educational institutions in the country.

The two men holding flags, who also raised slogans of "Bharat Mata Ki Jai" were roughed up, allegedly by members of Mr Kumar's team. Later the police, who detained and questioned them, said they were from a little-known group called "Youth Swaraj" and said to be members of Rashtriya Swayamsevak Sangh, the ideological mentor of the BJP.

The JNUSU president, who was addressing a gathering when the incident occurred, said he was not scared of people who oppose him or try to disturb his functions. "I am not scared of anything -- whether you hurl a shoe or a stone.... They want to disturb my programmes as they are uncomfortable with my questions," Mr Kumar said.

"I was speaking and some people walked out because these people don't understand the difference between Desh Bhakti and Modi Bhakti," he added.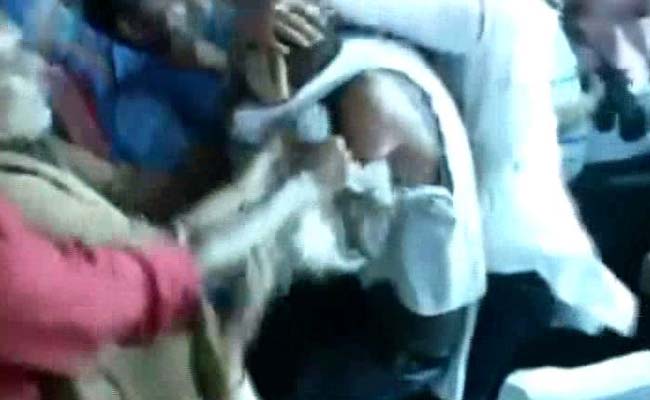 Attacking Prime Minister Narendra Modi during his speech, Mr Kumar alleged that he became the PM "with the support of capitalists" and cannot solve the problem of unemployment.
Mr Kumar, whose arrest on sedition charges in February had triggered international headlines and criticisms that the government was over-reaching, had targeted the Prime Minister regularly since.
The student leader, who hails from Begusarai district of Bihar, is on a two-day tour of the state and met both Chief Minister Nitish Kumar and RJD president Lalu Prasad yesterday.