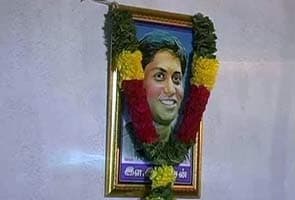 Chennai:
On July 4, the body of a young Dalit boy, Ilavarasan, was found on the tracks in Dharmapuri, northern Tamil Nadu. Initially reported as a suicide, his family and Dalit groups suspected murder by upper caste groups.
Ilavarasan's marriage to Divya, a girl of the higher Vanniyar caste had led to riots in November last year in which three Dalit villages were attacked and more than 260 homes burnt or damaged badly.
But now the police claim to have enough evidence to suggest Ilavarasan did commit suicide, which does not, as we shall see, absolve the role of political forces that precipitated his death.
The most significant piece of evidence that matches the suicide theory is the authentication of the lengthy, four-page emotional suicide note found on Ilavarasan's body, which the police claim was hidden from them for 48 hours.
The letter begins with Ilavarasan addressing his "dear lover Divya". He says, "I couldn't do anything from the day you left me. Till July 1st I was confidently waiting for you to return to me. In case if you don't come back, I will not be in this world."
He then addresses his parents asking for their forgiveness, and says "Nobody is responsible for my death. This is my own decision."
His family has insisted that it is not his writing.
But samples of Ilavarasan's writings sent to forensic experts by the police along with the suicide note have come back an exact match.
The report of the Forensic Science Department, Chennai, dated 12th July 2013, and signed by its Deputy Director AR Mohan says, "Whatever admitted writings have been sent have been written by one and the same person."
Ilavarasan's viscera report has come back with high levels of alcohol.
The report of the Regional Forensic Science Laboratory, Chennai, also dated 12th July and signed by Deputy Director Balashanmugham says, "Detected Ethyl Alcohol in stomach, intestines, liver, kidney and more than 90 percentile in Ilavarasan's blood."
But perhaps the most clinching is a set of conversations that Ilavarasan recorded on his cellphone prior to his suicide, now in possession of the police.
One is to his wife Divya on June 27, about eight days before the suicide where he tells her that he will commit suicide by a head injury so she can never see him again.
The other is to his friend, Arivalagan on July 4, at around 12 noon, just an hour before his death, where Ilavarasan says he is drinking, on the tracks and alone.
The second post-mortem conducted by a team of doctors from AIIMS - the first was inconclusive - says the injuries on llavarasan's body could be caused by running train.
Even if it is suicide, it makes it no less a tragedy, or reduce the political culpability.
His family blames the Pattali Makkal Katchi (PMK), the party of the Vanniyar caste for their role in the November riots, and in Ilavarsan's death, charges that the PMK has denied.
But of the 141 people arrested for the November riots, 22 are functionaries of the PMK.
At the same time, functionaries of other parties are also involved in the riots: 10 of the ruling AIADMK, five of the DMK, and 10 of the DMDK, the party of actor Vijaykanth.
Scholar and publisher S Anand says it reflects the broad anti-Dalit sentiment manifest in the intermediate or OBC castes that cuts across Tamil Nadu's mainstream political parties.
But it's the PMK which seems to have directly backed the rioters.
NDTV has accessed images which shows the PMK's top local leaders, ex-MLAs GK Mani and Tamilarasu, and ex-MP Senthil welcoming the rioters when they were released from Salem jail.
Former PMK Member of Parliament from Dharmapuri, Senthil told us, "At the end of the day, we are a party of the Vanniyars. They are a majority and my community people."
Soon after the riots, PMK chief S Ramadoss began a statewide tour against what he called staged marriages by Dalit youth, which observers say further stoked anti-Dalit sentiment.
The reasons for the PMK's strategy may be hard electoral realities. Worried by its political decline, the PMK, which has a long history of animosity with Dalits, switched strategies four years ago and attempted to woo Dalits, even forging an alliance with Dalit party VCK.
But the move led to no great dividends. Its political graph continued to slide - from 20 assembly seats and five Lok Sabha seats a decade ago, the PMK is today down to three assembly seats and zero Lok Sabha seats. This might explain its return to its core Vanniyar base.
Four months after the riots, the PMK directly entered the Divya-Ilavarsan story, to devastating effect.
Divya's mother was formally represented by the PMK's lawyers in the Madras High Court, where they filed a petition saying she was missing.
But Divya appeared before the court to say she would not leave Ilavarasan, and she was very happy with him.
Ilavarasan's parents say that Divya's mother, advised by the PMK, then adopted a more devious strategy.
They said that Divya's mother lured her to the hospital saying she was unwell, and once there, came on the phone to tell Ilavarasan that Divya is not coming back.
In a decisive hearing on July 3, Divya appeared with her mother and flanked by PMK lawyers, who told the court that she was not coming back to Ilavarasan - ever.
Divya then made the following statement to the media waiting outside to explain her U-turn, a statement which Ilavarasan's family says was scripted by her lawyers: "I willingly married Ilavarasan. But after my father's death there were problems at home. All my thoughts were with those issues, so I could not lead a married life with Ilavarasan. The situation then did not permit me to come to Court. That's why I took time. Now I have come. Hereafter I won't go back to my husband. I want to be with my mother to compensate for my father's loss."
The next morning, on July 4, Ilavarasan left home telling his parents he was going to fill in forms to enter a new college.
Two hours later, was found dead on the railway track.
As S Anand says even if it was not legally a case of murder, Ilavarasan was "driven to death". It is the kind of death, he says, "which should weigh on the conscience of the nation".