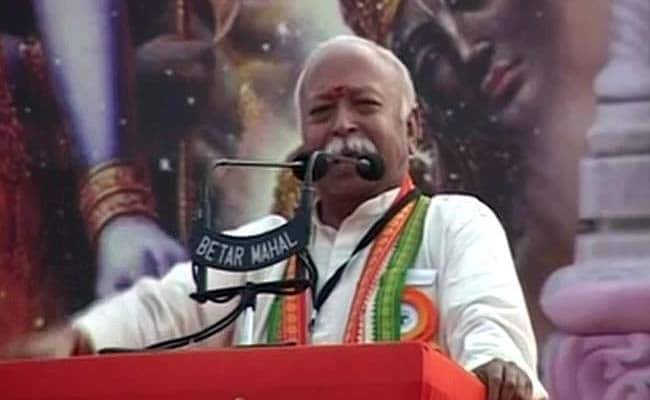 Kolkata:
Expressing his support for the a bill against conversions, Rashtriya Swayamsevak Sangh or RSS chief Mohan Bhagwat on Saturday asked opposition parties to facilitate bringing such a law in Parliament, if they "did not like conversions".
"We are trying to create a strong Hindu society. Those who have strayed, they have not gone on their own. They have been allured and have been forcibly taken away. When the thief is being caught and my property has been recovered, when I am taking back my own property, what is new in it?" Mr Bhagwat wondered at a meet in Kolkata.
"If you don't like it, then bring a law against it. If you don't want to change into a Hindu, then you should not convert Hindus too. We are firm in our position," he said.
BJP President Amit Shah had earlier said his party is against forceful conversions and asked other political parties in the country to support a Bill in this regard if they are 'sincere' in their approach to secularism.
The conversions row had stalled proceedings in Parliament, with a united opposition attacking the ruling BJP on religious conversions and demanding a statement from Prime Minister Narendra Modi.
Mr Bhagwat also said that Hindus were strong enough to save their property and honour, adding that "for the betterment of the entire world, there is need for a strong Hindu society".
Vishwa Hindu Parishad leader Pravin Togadia too supported Mr Bhagwat's view on bringing a law on anti-conversion.
"If conversion is a crime, if theft is a crime... if there is law against stealing, then why shouldn't there be a law against conversion... then why are you opposing anti-conversion law in Parliament," Mr Togadia said.
"Even if you bring anti-conversion bill, we will support it," Mr Togadia said at the meeting.