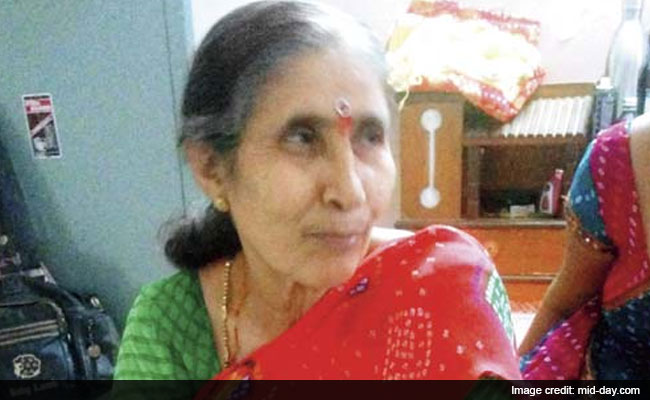 Despite not having been with him for 43 years, the Prime Minister's wife is sure that Narendra Modi still has some feelings for her.
64-year-old Jashodaben, content to be recognised as the PM's wife, spoke at length to mid-day at her relatives' place in Mira Road yesterday, before she heads back to her home state of Gujarat today.
Perhaps it is the years of teaching, but she seems outspoken. She asserts, hope gleaming in her eyes, that she would go with Modi if he calls her even once. This was her first visit to Mumbai after Modi became PM. The last time she was here was in the'80s, when she was calling on an aunt in Sion. But things are different now: her movement sets in motion an entire cavalcade.
Wherever she goes, five police officers of the Gujarat Police, provided to escort her since May 30, accompany her. But she is not very fond of the trappings of being First Lady. Remarkably, while she travels in an auto rickshaw, the officers trail her in a sedan. She considers them a nuisance: "They are everywhere now, even in Mumbai."
She was married to Modi in 1968, and three years after they tied the knot, she left Modi's house and started on the path of her education, along which her father was instrumental in steering her. She claims that she doesn't regret the course of her marital life much, because Modi, after all, had gone for desh seva service of the country.
While Mrs Modi wants to speak, and does speak a lot, she has a hearing problem, thanks again to a near-lifetime of teaching. For nearly 40 years, Jashodaben worked as teacher in a primary school in Vadgam district's Rajoshana village, teaching Stds I to VII. At one time, she used to teach 89 students and the "very noisy" kids took their toll on her aural faculties. She retired five years ago.
Now, Jashodaben fasts four days a week, doesn't eat rice and reserves all her prayers on Modi. In any case, talking to us on Friday, she appears joyous, saying, "Yes, there's always a desire to be together, but the media portrayed it wrong." "I will go and do his seva, he just has to give me a call. If he comes down to the building where I am right now and tells me that I should go with him, I will immediately join him.
I wish to be with him. If he calls me, I am eager to start a new life with him. But it has to be he who calls," she says. She claims she had no problem talking to the media even earlier, but there was pressure on her not to. She didn't say whom the pressure came from. In fact, for all these years, she has been dying to be recognised as the PM's wife, keen to speak about her marriage, though she asks, "Kone kehva jau? (Whom do I tell?)"
The question is spoken with a gesture that betrays resignation to her fate. But when she speaks, it is about how she is hopeful that someday she will get her due as Narendra Modi's wife. Hope had surfaced earlier this year when Modi acknowledged her as his wife while filing his nomination papers from Vadodara for the Lok Sabha elections. "I was elated, there were tears in my eyes.
I thought that now, as he had acknowledged me, things would change. Even he has a liking for me, I am sure, and hence he wrote my name (in the nomination paper," she said, adding, "Temna manma mara mate ek so ek taka lagni chhe. (In his heart, he definitely has feelings for me)."
She writes off the rumours that during elections, she was shut away in a secret place. "I had been on a pilgrimage. I went to Gangasagar in Kolkata and various other places of worship, for him. I was very happy when he won." Asked if she wished to go on tours with Modi, as wives of Prime Ministers are wont to do, she said, "How could I? But, if he shows me respect and calls me, I will."
Jashodaben sports all the insignia of a married woman. She has on sindoor, a tika and a mangalsutra. The necklace had broken once, so she had stopped wearing it, but when Modi publicly declared that she was his wife, she got a new one. She follows every custom a wife does, and claims she will do so all her life.