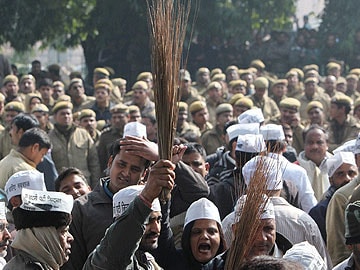 New Delhi:
The Congress today hit out at Delhi Chief Minister Arvind Kejriwal for his agitation targeting the Delhi Police and alleged that he was trying to shift responsibility, wondering who will run Government if the chief minister sits on dharna.
Congress general secretary Digvijaya Singh, who had earlier dared Mr Kejriwal to contest elections, also said that the Aam Aadmi Party (AAP) should contest Lok Sabha elections if it wanted to change laws as they are made in Parliament and not through dharnas on roads.
"He is Chief Minister. Let him change the system. It cannot be done by shouting," party spokesperson Bhakta Charan Das said.
Another party spokesperson Meem Afzal said, "A wrong message has gone among the people with the step that Kejriwal and his party took. It think their countdown has begun. People do not like this. When they have given you power, you have to bring changes through that and not through agitation and procession. If the Chief Minister sits on dharna, who will run the government."
Mr Das noted that a Chief Minister should have faith in the system. "Even if he does not believe in the system, he should change it instead of shouting and making allegations in the streets or through media. He is trying to divert his responsibility."
He added that instead of shouldering responsibility, the Delhi Chief Minister was trying to shift it on somebody else.
The Congress spokesperson also said that instead of making allegations, Mr Kejriwal should follow the process if he has sufficient material against somebody. He said that there is a Chief Minister's Office to pursue these things, Lokayukta and CBI to hold investigations and that Kejriwal should utilise them to punish the corrupt.
"You can go on shouting but unless material evidence is given in due process and at proper forum, even the courts cannot punish anyone," he said.