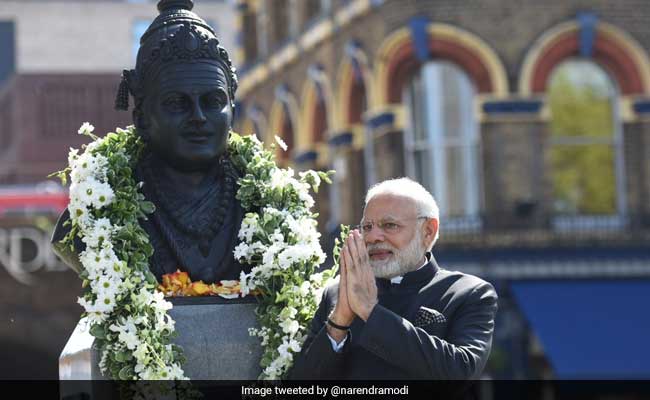 London:
Prime Minister Narendra Modi today said the ideals of Lingayat philosopher Basaveshwara motivate people across the world as he paid floral tributes at the bust of the 12th century social reformer at Albert Embankment Gardens on the banks of the river Thames.
The Prime Minister's statement comes in the backdrop of Karnataka Cabinet recommending the Centre to grant of religious minority status for Lingayat and Veerashaiva Lingayat community.
"It is an honour to pay homage to Bhagwan Basaveshwara during my UK visit. The ideals of Bhagwan Basaveshwara motivate people across the entire world," PM Modi tweeted both in Kannada and English along with photographs of the event.
The event - on the saint's 885th birth anniversary today - was organised by The Basaveshwara Foundation, a non-profit organisation-based in the UK that has installed the statue of Basaveshwara.
Lingayats/Veerashaivas, estimated to form 17 per cent of the state's population, are considered the BJP's traditional voter base in Congress-ruled Karnataka which is going to assembly polls next month.
The Basaveshwara statue installed at the Albert Embankment is not only the first statue to be unveiled by an Indian Prime Minister in the UK, but is also the first conceptual statue approved by the British cabinet in the vicinity of the parliament.
The approval was given as a mark of respect to Indian philosopher and social reformer Basaveshwara for promoting democratic ideals, social justice and gender equality.
Basaveshwara (1134-1168) was an Indian philosopher, social reformer and statesman who attempted to create a casteless society and fought against caste and religious discrimination.