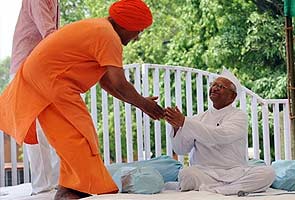 Thiruvananthapuram:
Social activist Swamy Agnivesh today regretted being seen as a "villain" for voicing differences on the manner in which anti-corruption crusader Anna Hazare's fast was carried out in its concluding phase.
"I was looked upon like a villain. This is not the first time I voiced my differences about the way the movement was carried on," Agnivesh told a meet-the-press at the Press Club here.
But he said he would continue supporting Anna's movement without compromising on his views and right to dissent. This was a movement that inspired people, especially youth, after the Jayaprakash Narayan led movement in the 1970s, he said.
Agnivesh said he had opposed Anna's fast plan from the start and also questioned the decision to start it on Aug 16, the day the Lokpal Bill was to be taken up by Parliament.
He said Anna should have called it off when Prime Minister Manmohan Singh urged to him to do so from Parliament.
"I thought that was the golden moment for Anna to end the fast."
Agnivesh replied in the affirmative when asked if Anna was persuaded to continue his fast by a "coterie" close to him.
He wanted Team Anna to ponder why the movement failed to ensure due participation of Dalits and minorities.
On the controversy over his telephonic talks with one Kapil when Anna's fast was on, he said "this Kapil is not Kapil Sibal or Kapilmuni of Hardwar," but somebody who to a certain extent represented government's views on the Lokpal issue.
Agnivesh said he had asked Team Anna to make note of his dissent on these lines when the core committee met.
Agnivesh criticised Home Minister Chidambaram's statement that Naxalism was a bigger threat than terrorism, saying "this amounts to playing down terror of terrorism and evading responsibility."
He said he believed that Naxalism could be solved through dialogue with marginalised people like tribals.
On terrorism, he said all political parties in India should condemn it in one voice as in U.S.A after 9/11. "Unfortunately this has not happened and the opposition has shown a tendency to take political mileage after every terror attack.