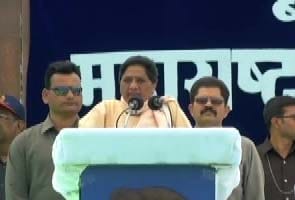 Nagpur:
Making clear her prime ministerial aspirations, Bahujan Samaj Party (BSP) chief Mayawati today asked party workers to ensure a big victory for her party in the next general elections and warned them against becoming a "saleable commodity".
Addressing a rally of party workers here, the former Uttar Pradesh Chief Minister asked her party workers to ensure a big victory for BSP in the next general elections so that she can "deliver Independence Day speech as Prime Minister from the Red Fort".
Mayawati cautioned her party cadre to remain alert against forces that might "try to corrupt them" during the Assembly and Lok Sabha elections.
"Don't become a saleable commodity," she warned.
She accused Congress and BJP of conspiring to stall the bill on quota in promotion for SCs/STs in government jobs and promised that if her party comes to power at the Centre, it would ensure that it is implemented.
Both Congress and the BJP conspired to deny the rights to lakhs of government employees, she alleged and asked the cadre to remain equidistant from both the parties.
She also demanded stringent punishment to those involved in the VVIP helicopter scam.