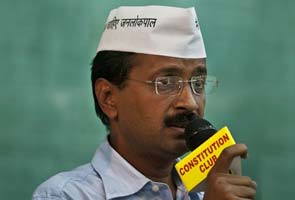 New Delhi:
Locking horns with Foreign Minister Salman Khurshid over his reported remarks, activist-turned-politician Arvind Kejriwal today said he is a "dengue mosquito" whose sting can put both the Congress and the BJP in trouble.
"I am a dengue (causing) mosquito. I will bite BJP and Congress and they will be in trouble," he said in response to the reported comments of Mr Khurshid that Mr Kejriwal's attack on him was just a mosquito bite that causes minor irritation.
Mr Kejriwal also claimed that he will "expose" corruption with regard to hike in power tariff in the national capital.
Mr Kejriwal along with fellow activists Gopal Rai and Sanjay Singh also attended a protest in Vivek Vihar by a labour union which accused power discom BSES for not giving bonus and honouring the rights of contractual employees.