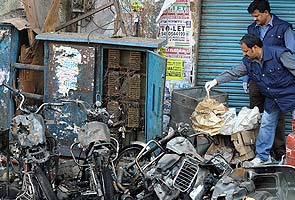 Hyderabad:
After he visited the Hyderabad neigbourhood where 16 people were killed and 117 injured in twin blasts, Home Minister Sushil Kumar Shinde repeated that though cities like Hyderabad had been warned 72 hours ago of a possible terror strike, there was no specific information that could have been acted upon by security officials.
(Read: Intelligence had prior alerts, but no specific details: Shinde)
Many see a contradiction in that statement. Intelligence agencies in Delhi three days ago decided that there appeared to be credible information about an attack in cities including Coimbatore, Bangalore and Hyderabad. They allegedly warned that terror group Lashkar-e-Taiba (LeT), based in Pakistan, and its subsidiary the Indian Mujahideen (IM) could be re-energizing their groups and plans within India.
The busy suburb of Dilsukhnagar, whose crowded lanes host a popular temple, many shops, restaurants and two cinemas, had been identified as a possible terror target by the Delhi Police as far back as October, when it said that an alleged Indian Mujahideen member who it had arrested had revealed that he had surveyed Dilsukhnagar on a motorcycle to evaluate its potential as a terror target.
(See pictures of blasts)
The Delhi Police had shared this information in a press release at the time. When intelligence agencies identified Hyderabad as the venue of a possible terror strike this week, it's not clear why Dilsukhnagar was not put on high-alert with heavy police patrol.
In fact, the security at the busy market area was more lax than usual - officials say they knew a security camera near the location of last evening's explosions had been disconnected four days ago, but the snapped wires triggered no alarm. However, Andhra Pradesh Chief Minister Kiran Kumar Reddy has denied the report.
15 minutes before the bombs exploded, Hyderabad Police Commissioner Anurag Sharma drove to a popular temple in Dilsukhnagar, just half a kilometre from where the bombs were placed on bicycles. In 2002, a bomb at the same temple had killed two people.
Investigators are examining whether terrorists wanted to target the temple again yesterday but were forced to change their plans by the visit of the police officer.