New Delhi:
If there was meant to be any charity in Rahul Gandhi's latest Twitter memo to Prime Minister Narendra Modi, it certainly did not make the final cut. In its unforgiving burn, the Congress Vice President Rahul Gandhi's latest tweet citing a media report that said the US Congress had approved a bill delinking America's military aid to Pakistan and Islamabad's crackdown on the Lashkar-e-Taiba, was as absolute as it could get.
"Narendrabhai,
baat nahi bani
(it did not work).
Terror mastermind is free
. President Trump just delinked Pak military funding LeT. Hugplomacy fail. More hugs need," he said, sharing a link to the news report.
Mr Gandhi's Twitter jibe was directed at PM Modi's "chemistry" with US President Donald Trump. The two leaders were seen hugging each other more than once during PM Modi's last visit to the US.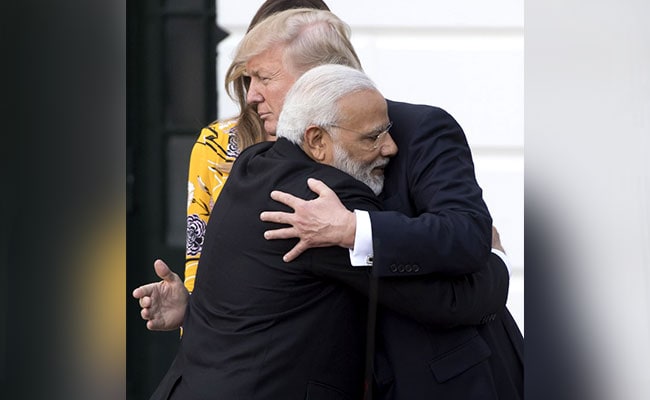 The tweet pointed to the
release of Lashkar-e-Taiba founder Hafiz Saeed
, accused of masterminding
the 26/11 Mumbai attacks in 2008
, on Friday after 10 months of house-arrest in Pakistan.
Rahul Gandhi also referred to the US move earlier this month, when the US Congress passed a bill dropping action against the Lashkar-e-Taiba as a condition for Pakistan to receive hundreds of millions of dollars in military funding, choosing to exert its pressure on enforcing graver action against the Haqqani Network which targets US interests in Afghanistan.
The BJP did not let the attack go unanswered. "Rahul
baba
,
Aadte nahi badli
(your habits have not changed). For once, stand with the country and not with Terrorists as is your habit. You are a known sympathiser of LeT. WikiLeaks and Ishrat Jahan case cover-up exposed your links. By the way have you congratulated your 'Hafeez Saheb' on his release yet," BJP spokesperson GVL Narsimha Rao said in a tweet.
Accusing the Congress of showing sympathy with Pakistan, the BJP leader said, "Congress Ka Haath, Aatankivadiyon ke Saath" would be a more appropriate slogan for the party.
"While Manmohan Singh's government treated Pakistan as a victim state and let it off lightly, Narendra Modi has succeeded in isolating and cornering Pakistan as terroristan not just in the region but globally and in all international fora like the UN, G20, BRICS, ASEAN etc," Mr Rao said.