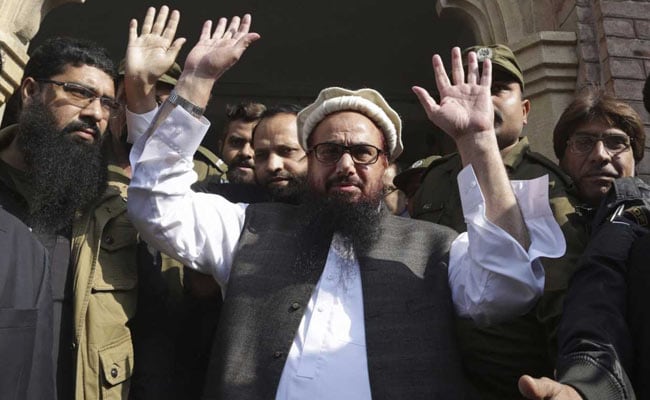 New Delhi:
India expressed outrage at a Pakistani court's order to release Lashkar-e-Taiba chief Hafiz Saeed just after 10 months of house arrest. The foreign ministry said the move was an "attempt by Pakistani system to mainstream proscribed terrorists". "It is evident that Pakistan has not changed its policy of shielding and supporting non-state actors and its true face is for all to see," the ministry said. The US has already expressed its displeasure over the development. The release of Hafiz Saeed, the mastermind of 26/11 Mumbai attacks, could potentially allow his increased participation in the country's day-to-day affairs.
Here is a 10-point guide to Hafiz Saeed's role in terror activities:
Hafiz Saeed walked free on Thursday night after the Pakistan government did not detain him in any other case. "... I was detained on the pressure of the US on the
Pakistani government. The US did so on the request of India," Saeed said soon after his release.

The Pakistan government had sought an extension of his house arrest, saying his release may trigger sanctions from the international community. The court had turned down the request.

Hafiz Saeed's release came days after the US Defence Department persuaded the US Congress to drop a provision that had linked reimbursements to Pakistan with demonstrable action against LeT.

On January 31, Hafiz Saeed and his four aides were detained following US President Donald Trump's crackdown on countries linked to terrorism. No formal charges have been filed against him, though the preventative detention was extended several times.

Saeed has been declared a global terrorist by the United Nations and the US for his role in the Mumbai attack. He has a $10 million US bounty on his head.

The mastermind of the 2008 Mumbai terror attack, which left 166 dead, has always denied that two luxury hotels and a train station in India's financial capital were attacked by 10 terrorists who sailed into the city from Karachi.

Saeed's Jamaat-Ud Dawa, listed as a terror outfit by the United Nations, is considered by the US and India to be a front for Lashkar-e-Taiba. It was declared as a foreign terrorist organisation by the United States in June 2014.

In August, President Trump had criticised Pakistan for its support to terror groups, saying it receives billions in US aid but continues to harbour militants.

A month later, Pakistan Foreign Minister Khawaja Asif had acknowledged that Hafiz Saeed "is a liability" for his country, one that "we need time to get rid of". But he didn't spare the US when he said that Washington considered such men as "darlings" until a few years ago.

In retaliation, Hafiz Saeed sent a Rs. 100 million defamation notice to Mr Asif. His counsel said as a "deeply religious and devout Muslim", Hafiz Saeed has "never been near the White House, not to speak of being wined and dined".
(With inputs from PTI)