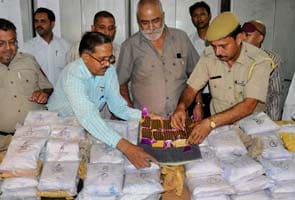 Amritsar:
In one of the biggest seizure of contraband in India, cutsoms and officials of the Border Security Force (BSF) today seized 105 Kg of heroin from a goods train originating from Lahore in Pakistan. 500 rounds of American-make ammunition for handguns were also seized.
"The heroin was packed in packets and put inside the cement bags. Further investigations are on," said a customs official.
One of carriages of the train that came from Pakistan yesterday was to carry 480 cement bags. The compartment was sealed as per the norm. However, when the goods were unloaded at Amritsar, four extra bags of cement were found which carried the heroin. All bags had seals of the Pakistan customs.
India and Pakistan do limited trade by train and trucks through the Attari-Wagah land route border, 30 km from Amritsar.
The seizure coincided with the visit of Home Minister Sushilkumar Shinde, who was in Amritsar yesterday to inspect the integrated check post at the Attari-Wagah border. Mr Shinde reviewed security arrangements put in place to prevent smuggling activities from Pakistan.
The Narcotics Control Bureau (NCB) and other Indian security agencies have issued several warnings about opium and heroin produced in Afghanistan finding its way into India en-route other countries. Senior NCB officials told NDTV that much of the poppy produced in Afghanistan is purified in small make-shift laboratories in NWFP along the Afghanistan- Pakistan border. Much of the finished product like heroin is then shipped into India by organised cartels for consumption and rest is shipped to the west.
Earlier last year, the United Nations office on Drugs and Crime (UNODC) had in a report said that area under poppy cultivation in Afghanistan was "estimated at 131,000 hectares," which is a staggering "7% increase compared to 2010. The report said that nearly all the "cultivation took place in nine provinces in the Southern and Western regions and included "the most insecure provinces in the country."
According to the report "the number of poppy-free provinces (in Afghanistan) decreased from 20 in 2010 to 17 in 2011 as Baghlan and Faryab provinces in the Northern region and Kapisa province in the Eastern region lost their poppy-free status." The UNDODC estimated that opium production in 2011 was "estimated at 5,800 mt, a 61% increase compared to 2010, when opium yields were much reduced due to plant diseases".
(With inputs from Agencies)