Lucknow:
While political parties are scrambling to be seen as the preserver of Dr BR Ambedkar's legacy -- with one of his statues
painted in saffron
in Uttar Pradesh's Badaun, only to be repainted in blue -- scholars are looking at how the colour blue came to be associated with Dr Ambedkar.
The statues of Dr Ambedkar installed across the country show the architect of India's constitution in a blue theme.
"Blue was his favourite colour and he mostly used it in his personal life too," Lalji Nirmal of Ambedkar Mahasabha told news agency Press Trust of India.
Mr Nirmal gave the "Dalit Mitra" award to Uttar Pradesh Chief Minister Yogi Adityanath on Dr Ambedkar's birth anniversary.
Besides being Dr Ambedkar's favourite colour, blue was also the colour of the flag of the party floated by his Scheduled Castes Federation of India in 1942, retired Indian Police Service (IPS) officer SR Darapuri said.
"The flag was blue in colour and had an Ashok Chakra in the centre... later in 1956 when the Republican Party of India was set up after dissolving the earlier party, it was also given the same blue flag," the retired IPS officer said. "Blue, in another shade, is also the colour of the sky, which shows vastness and that was the vision of Baba Saheb," he said.
The same colour is used by Mayawati's Bahujan Samaj Party, which calls itself a party that works for the welfare of Dalits, he said.
"The statues of Baba Saheb are always seen in a blue coat with the constitution in one hand and the finger of the other pointing out as a symbol of moving ahead," Mr Darapuri said.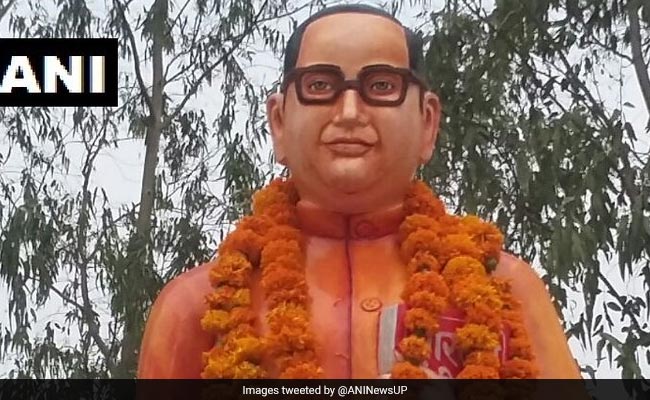 Recently, a new five-feet-tall statue of Dr Ambedkar was found painted in saffron, the colour associated with the BJP and related groups, but it was quickly repainted in blue. The saffron colour statue was a replacement for a smaller Dr Ambedkar statue that was damaged by anti-social elements.
Recalling an anecdote recounted by Dr Ambedkar's wife Dr Savitri Ambedkar, who was a close acquaintance, Lalji Nirmal said that on a visit to Lucknow as a central minister. Dr Ambedkar had refused to stay in the Raj Bhawan saying that he cannot part with his books.
"The then Governor Sarojini Naidu had invited Dr Ambedkar to stay in the Raj Bhawan, but since he had come with a lot of his books, he said he would stay at the railway saloon," Mr Nirmal said, adding that even his wife used to say that books were his first love.
Quoting from "Ambedkar Ki Dincharya", a book by Dr Ambedkar's secretary , IPS officer SR Darapuri said the iconic leader was also fond of good food and used to cook for his friends and guests.
"Savitri Ambedkar on a visit to our place in Varanasi told us that he liked dressing up immaculately and his clothes were stitched by the same tailor from whom the then Lt Governor of Bombay presidency used to get them made," Mr Darapuri said.
Lalji Nirmal said Prime Minister Narendra Modi has given a lot of efforts to make Dr Ambedkar relevant today.
With inputs from PTI