Badaun, Uttar Pradesh:
BR Ambedkar, the iconic leader who drafted India's constitution, wore saffron and was covered with marigold garlands in images of a statue shared on social media. The statue, standing at a village in Uttar Pradesh's Badaun, has now been repainted blue.
The statue at Badaun's Dugraiyya village was rebuilt after it was vandalised on Saturday.
Ambedkar is usually depicted in a black or blue coat in statues across the country.
The statue didn't stay saffron for long. Workers said to be from Mayawati's Bahujan Samaj Party went to the spot and repainted it blue.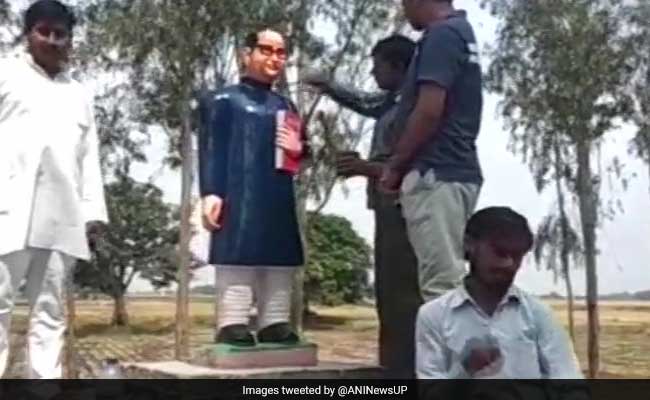 Though the statue had nothing to do with the state government, several buildings in state capital Lucknow have been painted saffron since Yogi Adityanath came to power in UP last year.
Yogi Adityanath, who is known for his love for the colour, has often said: "Saffron represents purity... can someone deny the existence of the sun which is also saffron... people questioning all these are narrow-minded."
Last month, a number of statues were vandalised after a Lenin statue was pulled down in Tripura after the BJP wrested the state from the Left.
Security around statues in UP was increased today because of a
"Bharat Bandh" call
by those opposed to quota in jobs and education.
(With inputs from ANI)
Get Breaking news, live coverage, and Latest News from India and around the world on NDTV.com. Catch all the Live TV action on NDTV 24x7 and NDTV India. Like us on Facebook or follow us on Twitter and Instagram for latest news and live news updates.