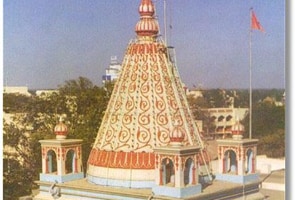 Nagpur:
The famous pilgrim centre of Shri Saibaba temple in Shirdi, one of the richest temples in Maharashtra, has ornaments and jewellery worth over Rs 32 crore and investments running into Rs 427 crore, according to official documents.
The administration of Shri Saibaba Sansthan Trust (Shirdi), governed by the Managing Committee which was constituted by the Maharashtra Government way back on August 23, 2004 has Kisan Vikas Patras worth more than Rs 51.71 crore besides Government of India eight-percent Saving Bonds amounting to Rs 48.15 crore and Rs 8 crore in non-redeemable bonds of Maharashtra Jeevan Pradhikaran, and Rs 3.19 crore in various nationalised banks.
It has Rs 47.82 crore as Trust Corpus Fund.
The temple trust has ornaments and jewellery including Gold worth Rs 24,41,10,640 crore, Silver--Rs 3.26 crore; Silver coins-- Rs 61.2 lakh; Gold Coins--Rs 1.28 crore and Gold pendants worth Rs 1.12 crore, the Trust Auditor Sharad S Gaikwad said in its annuul audit for 2009-10 as the annual report was tabled in the State Legislature during its winter session in December 2010 here.
The total worth of the ornaments and jewellery stands at over Rs 32.23 crore.
The temple has earned a surplus income of Rs 94.67 crore in year 2009-10 as against Rs 87.22 crore in year 2008-09.
The total income during the year 2009-10 was Rs 164.88 crore by way of rent, interest on savings bank accounts, investments and donations against over Rs 151.51 crore in previous year. The immovable property and buildings are worth Rs 7.92 crore including the Statue of Saibaba worth Rs eight lakh, the annual report stated.