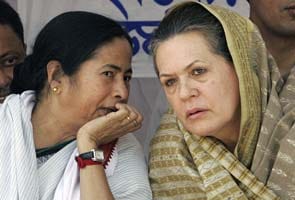 New Delhi:
So does Mamata Banerjee gain from pulling out the UPA government? And why did the government look so tough in the face of the West Bengal chief minister's demands this time? Look at it in simple numbers. The UPA has 276 MPs in Parliament and with outside support of the Samajwadi Party, the Bahujan Samaj Party, JD(S) and the Rashtriya Janata Dal, the number goes up to 326. This is very comfortably above the half-way mark of 272. (See break-up below)
Without Ms Banerjee it loses 19 of her MPs. This still leaves the government with a comfortable 35 more than it needs to survive. This time round, she has shown some real bite and not just bark. This will help her silence the already wounded Left in the state, which is politically very important for her.
With local elections coming up, her pro-poor posturing could also be politically helpful. But she has lost some clout in New Delhi, where had the important rail ministry. The ministry has proved politically useful to a succession of parties and governments, especially during election campaigns.
UPA NUMBERS IN LOK SABHA

UPA + Allies (Mamata, Mulayam, Karunanidhi) = 329 seats
UPA + Allies - Mamata = 310 seats
UPA + Allies - Mamata and Mulayam = 288 seats
Majority Mark: 272
Total seats: 543