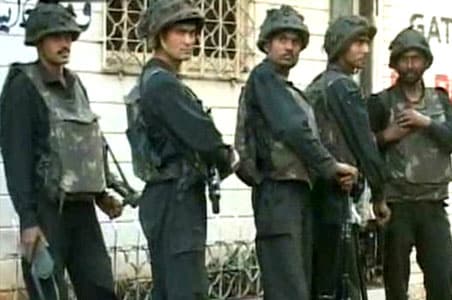 New Delhi:
To sharpen its skills in executing anti-terror and special operations in urban areas, the NSG will soon undertake a joint tactical exercise with their German counterpart 'GSG 9'.
A team of the National Security Guard (NSG) led by its Director General N P S Aulakh is visiting the GSG 9 headquarters at Bonn.
The specialised training and joint exercises have been worked out by the NSG headquarters after the November 26 Mumbai attacks last year.
"GSG 9 is one of the commando forces that the NSG is modelled on. In the process of continuous learning from each other's experience, the black cats of the NSG will undergo a joint training," official sources said.
The plan was being worked out for quiet some time, they said, adding the new joint exercise will be useful before the Commonwealth Games in Delhi next year.
The GSG 9 has been involved in resolving hostage situations and terror since 1977. After the Mumbai operations, urban terrorism with terrorists holed up in large buildings has come up as a new challenge for a special force like NSG, they said.
The NSG, setup in 1984, was modelled on the pattern of commndo forces like SAS of the UK and the GSG 9.
The NSG will also share its experiences of the Mumbai operation, termed 'Operation Black Tornado', with the GSG 9 on a reciprocal basis.
Both forces will share their experiences once such joint exercises and courses are planned, the sources said.
GSG 9, the special unit of the German Federal Police, functions under the direct control of Germany's Interior Ministry and executed its first successful operation in 1977 when they freed 86 hostages held captive in an aircraft in Mogadishu in Somalia, killing three terrorists and injuring one.
The NSG, sources said, is also looking forward to share lessons on absolute prevention of commando causalities and deployment of technical gadgets in live operations by combat
commandos.
During the about 60-hour Mumbai operation last year, NSG lost two commandos and killed eight terrorists.