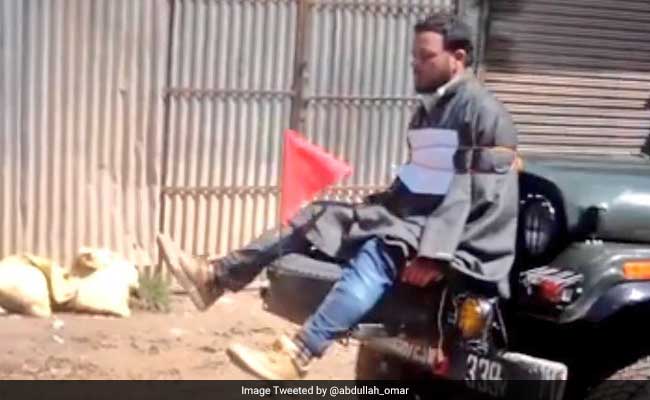 Srinagar:
Army Chief Bipin Rawat's Commendation Card for Major Leetul Gogoi - the officer who tied a man to the bonnet of a jeep while rescuing a group of election officials in Srinagar - has widened the rift between the ruling allies of Jammu and Kashmir, the PDP and the BJP.
Senior leaders and ministers of the BJP have come out in support of Major Gogoi. Today, Union Defence Minister Arun Jaitley hit out at those criticising Major Gogoi, saying he was acting in a "war-like zone" and Army officers must be allowed to take decisions in such situations. Military solutions are to be provided by military officers, not politicians. The officers "don't need to consult members of parliament as to what they should do in such situations," he added.
One of the loudest critics of the action of the Army officer has been the PDP. Jammu and Kashmir education minister and senior PDP leader Altaf Bukhari strongly criticised the army for using a man as a human shield and rewarding Major Gogoi. Mr Bukhari told NDTV that the act was "inhuman" and he was "ashamed of it". The senior minster said police will go ahead with its investigation into the incident.
"For all those asking questions about the army officers, I have to ask a counter question," said another Union minister, Ravi Shankar Prasad. "When a Kashmiri soldier was killed in Pulwama, did anyone of them condemn it? This is not fair, this is double standard. All the major did was to save the lives of polling officers".
Describing how he came to tie a protester, Farooq Ahmed Dar, to his jeep on April 9, when by-elections were held in Srinagar amid violence, Major Gogoi told reporters that he and his team came up against a 1000-strong crowd of protesters when they responded to an SOS from poll officials who were trapped in a poll booth. When they reached the spot, they found the protesters hurling stones and petrol bombs. The officer then used Mr Dar as a human shield to evacuate them.
"It was done only to save the local people. Had we opened fire, there would have been a dozen casualties... I got a fraction of a moment to get out safely. I saved at least 12 lives," said Major Gogoi.