Lucknow:
Around 9 pm on a Friday night, near a crowded intersection in Lucknow, the Parivartan Chowk, a 40-year-old rickshaw puller, Himachal, originally from a village in the Rae Bareli district and homeless in Lucknow, gears up to spend yet another bitterly cold night on the streets.
A privately run night shelter just a few steps away won't allow him in as he doesn't have an Aadhaar card. "I had an Aadhaar card at home, but rats chewed it up. I don't know if I can get another one made. I don't have any other id proof. If we go to a night shelter, private or government, they demand to see our Aadhaar and if we don't have, we are turned away, leaving us with no choice but to sleep on the pavement," Himachal said.
NDTV decided to verify his claim and sent a cab driver to enter a night shelter posing as a homeless person. This is how the conversation went:
Caretaker: Give me an id proof.

Cab driver: Which id?

Caretaker: Aadhaar card.

Cab driver: I don't have an Aadhaar card. Since when has this rule been in place?

Caretaker: It's been a long time.

Cab driver: Can I stay somehow?

Caretaker: No. There is a government-run shelter nearby. You can go there.

Cab driver: Will they ask for an id proof there?

Caretaker: Yes
When we asked Rohit Saxena, the caretaker of the shelter, about the criterion, he said, "An officer had come about 8-9 days ago. He checked the register and said if you feel someone looks suspicious, don't let them in without an id proof."
But he added that "some people choose to stay on pavements". He said, "They sleep outside to collect blankets donated by people. They then sell them for a price."
At 10 pm at a government-run night shelter in Daliganj, Lalit and Ram Jeeva, both daily wagers from the Sitapur district, quickly take out their neatly wrapped Aadhaar cards to show them to us. It's their ticket to a night with a blanket and pillow under a roof, they say.
"We were told by others who stayed at this night shelter that we would be allowed in only if we had an Aadhaar card," said Ram Jeevan, an elderly, who came to Lucknow three days ago and has been sleeping at this night shelter since.
Rahul Kumar Pandey, the caretaker here, insists on keeping a photocopy of the Aadhar card. "I don't have any orders to ask for Aadhaar, but these days they are the best form of identification. Sometimes people escape with blankets, bedsheets and other stuff. So what do we do?" he asked.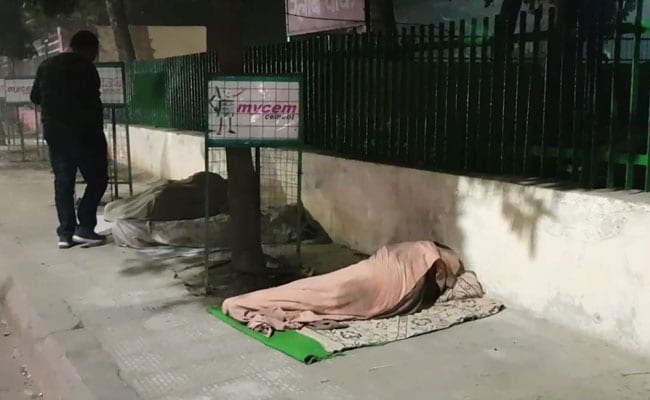 At 11 pm, near a posh central lucknow locality, we meet Kamlesh, Buddhi Sagar and Ram Kumar, daily wagers from Bahraich district along the Nepal border who tell us that they are not carrying their Aadhaar cards, but the caretaker at this night shelter here lets them in anyway.
There are two types of government shelters -- permanent and temporary -- besides some privately run homes in the state. A senior officer told NDTV that there is no obligation to produce Aadhaar card to enter these shelters, however, at permanent structures, some identity proof is required. He added that action will be taken against those demanding Aadhaar and turning away those without the national identity card.
Three days ago, the Supreme Court asked the Uttar Pradesh government if a homeless person doesn't have the Aadhaar, will he not exist for them? The court asked this after a lawyer representing the UP government in a case related to night shelters for the homeless remarked that "some sort of identification like an Aadhaar" can be used while admitting people into the shelters.
The insistence on identification angered the court, but it didn't bring any clarity on what the homeless people need are required to do -- do they need to get new Aadhaar cards made, if yes, what's the procedure?
Additional Solicitor General Tushar Mehta, who was representing Uttar Pradesh government, said, "We are dealing with a human problem. Permanent address can be given for it (Aadhaar). They (urban homeless) remain a floating population."
He added that the state was alive to the situation and trying its best to ensure that all such persons are accommodated in shelter homes.