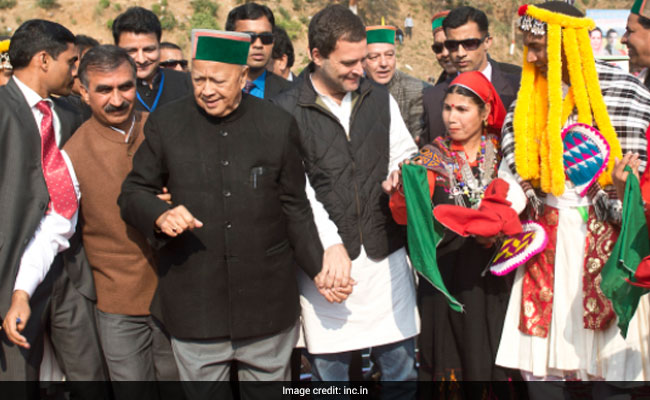 Shimla:
Hours after BJP chief Amit Shah named two-time Chief Minister
Prem Kumar Dhumal
as the party's candidate for the top post in Himachal Pradesh, a heated debate at a small tea shop on capital Shimla's famous Mall Road was settled with all agreeing that next week's assembly election will be fought on local issues by local leaders, with little or no influence of national politics.
The BJP had earlier indicated that it would contest the hill state with the same winning strategy that it has other states - not announcing a chief ministerial candidate and seeking votes in the name of Prime Minister Narendra Modi and his development policies. At a big rally in the state on Tuesday, Amit Shah said he was announcing Mr Dhumal's name to shut up the Congress,which taunted the BJP as being leaderless in the state after settling its own internal battle in favour of chief minister Virbhadra Singh.
"The Assembly polls will be contested under the leadership of Dhumal and after a massive victory with a two-thirds majority on December 18, Dhumal will take oath as the next CM," the BJP chief announced.
Mr Dhumal had on several occasions publicly urged the BJP to announce that he would lead the party's campaign. Sources said reports of infighting in the state unit were a major reason for Amit Shah deciding to name a chief ministerial candidate after all. In most other state elections, including key states like Uttar Pradesh, the BJP has chosen a Chief Minister only after winning.
Effectively, Himachal Pradesh gets to choose between 73-year-old Mr Dhumal and 83-year-old Mr Singh, who have by turns been Chief Minister since 1993. Both are succession planning, with their sons waiting in the wings.
While Prem Kumar Dhumal's son Anurag Thakur is a parliamentarian and is seen as a rising star in Indian politics, Vikramaditya Singh is contesting assembly elections for the first time this year. He will contest from Shimla Rural, a seat his father, a six-time Chief Minister has vacated to ensure a safe constituency for the debutant.
Virbhadra Singh has chosen to contest from Arki after declaring that he would fight on a seat that is held by the BJP as he attempts to prove that he is still wields the most influence in the state. After seeming to mull a promotion for younger leaders in the state, the Congress finally decided to go with the tried and tested, also allowing Mr Singh complete say in candidate selection for the assembly elections.
The state's ruling Congress will release its manifesto today. The BJP has already released its vision statement for Himachal, promising to dismantle the "
mafia raj
", women's safety, jobs and free pilgrimages for the elderly.
It has also promised a telecast every morning of
aarti
at various temples and to set up a commission called the 'Gau Sewa Ayog,' to "ensure that cow rearing becomes profitable. The government will also make policies to increase number of cows in the state."
Himachal votes in a single phase on November 9 and votes will be counted on December 18 along with Gujarat