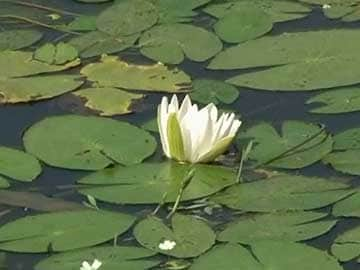 New Delhi:
A Congress leader in poll-bound Madhya Pradesh has made a baffling demand for all lotus ponds to be covered as the flower, a BJP symbol, could influence voters.
The Election Commission has predictably ruled out covering the flowers. "We will not cover lotuses," said state poll panel chief Jaideep Govind.
Congress corporator Amar Chand Babaria had written to the Election Commission accusing the BJP of deliberating planting the lotus flowers for political benefit.
The BJP, which has been in power in Madhya Pradesh for 10 years, has dismissed the complaint as a sign of "mental bankruptcy."
Had the Election Commission taken the complaint seriously, it would open up the possibility of covering hands and removing brooms from the streets of Delhi, which goes to polls on December 4. The broom is the poll symbol of debutant Arvind Kejriwal's Aam Aadmi Party.
"There can be nothing more bewildering than this," said BJP leader Sushma Swaraj, reacting to the Madhya Pradesh Congress leader's complaint.
BJP spokesperson Nirmala Deshpande said, "How silly is the congress being. What will they do about the hand will they stop waving to people or will they cover their hands? What about the sun, the party symbol of AIADMK , will they cover the sun?"