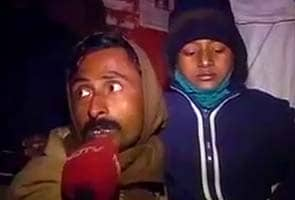 After
NDTV reported on a 12-year-old
who is fighting cancer and spends his nights sleeping outside the hospital where he is being treated, many ndtv.com surfers have asked how they can help.
Details of a bank account created by an NGO with his family's consent are listed below this story.
Chandan and his father spend their days and nights in this cold wave lying on a pavement outside Delhi's AIIMS hospital.
Chandan was diagnosed five months months ago with bone marrow cancer. His father accompanied him from their village in Bihar to Delhi. Treatment at AIIMS is heavily subsidised. But they have nowhere to live.
So now, in between appointments for chemotherapy at the hospital, the family sleeps on the pavement.
Chandan's father, Girish, originally tried to rent a room nearby for Rs. 60 a day. But without any income, that soon became unaffordable.
Across the road from AIIMS, a government shelter has 400 beds for out-of-town and needy patients. But it's full, and the road outside is strewn with shivering, sick people who have nowhere else to go.
HOW YOU CAN HELP CHANDAN
Pls send cheques or demand drafts in the name of

Master Chandan Kumar
A/C No. 600510110003936 (Savings Account)
Bank of India
Hauz Khas Branch
A-21, Green Park Main
New Delhi 110016

For online transactions:
IFSC Code BKID0006005

If you have any queries, you can send an email to: info@udayfoundationindia.org
Note: This information has been provided / published on a good faith basis, without any commercial motive. NDTV does not vouch for the authenticity of the claims made by the intending donee, nor can we guarantee that the donations made by a donor will be used for the purpose as stated by the intending donee. You are requested to independently verify the contact information and other details before making a donation. NDTV and/or its employees will not be responsible for the same.