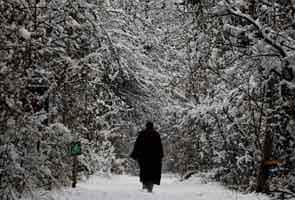 Shimla:
Himachal Pradesh, which is still recuperating from miseries caused by recent snowfall is set for more snow by next week, the Met Office said on Wednesday.
"Certain areas in Shimla, Kinnaur, Chamba, Kullu, Kangra and Lahaul and Spiti districts are likely to experience heavy spells of snow and rain from February 4 to 6," the India Meteorological Department (IMD) director Manmohan Singh said.
Lower hills in the state are likely to experience heavy rain and thundershowers during this period, he said.
The Met department said the western disturbances or the storm systems from the Mediterranean Sea moving across the Afghanistan-Pakistan region would be active in the region from February 3.
The mid and high-hills in the state had experienced moderate to heavy snow January 17-19.
Most of the roads in the interiors of the state, especially in Shimla, Kinnaur, Chamba, Kullu and Lahaul and Spiti districts, had remained closed to traffic for almost a week, grounding travellers and commuters.
Keylong in Lahaul and Spiti district was the coldest town in the state with a low of minus 11.1 degrees Celsius on Wednesday.
The minimum temperatures in Shimla and Manali were 4.9 degrees Celsius and minus 2.4 degrees Celsius, respectively.
Kalpa, some 250 km from Shimla, saw the night temperature at minus 5 degrees .