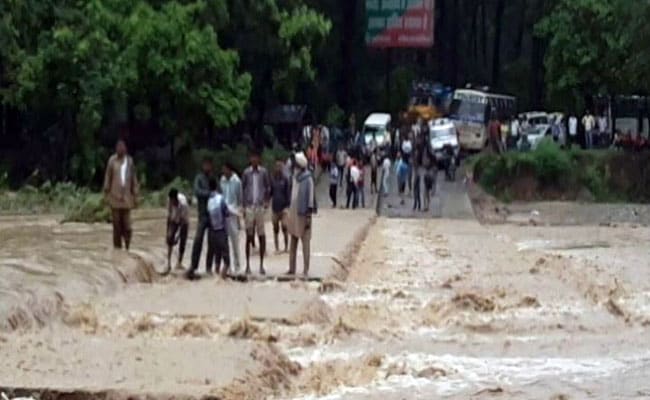 Dehradun:
A "heavy to very heavy rain" alert has been issued in Uttarakhand for the next three days by the regional weather office. The hill state is already receiving heavy rain; this time the warning is of a massive downpour in almost all the districts.
Dehradun and the districts of Uttarkashi and Udham Singh Nagar have been receiving heavy rain in the past 24 hours, forcing the district administration to step up monitoring.
Bajpur in Udham Singh Nagar district is facing a flood-like situation, an official said.
In Bajpur, water has started accumulating at many places and has become a major cause of concern. Most busy thoroughfares and localities like Teachers Colony, Beria Road and Ramraj Road are getting flooded with rainwater, the official said.
Following the warning from the weather office, the state government has asked the authorities in all the districts to be alert. They have asked people living near embankments to move to higher ground for safety.
Since August 14, heavy rain in Uttarakhand has created a flood-like situation in several areas of the hill state, people in the state disaster management authority said. Water level in the rivers is still rising.
Last week, in Rishikesh, the water level of the Ganga river was at 339.5 metres, just a metre shy of the danger mark of 340.5 metres. People living right on the riverbank were also asked to keep an eye on the water level and evacuate if necessary.
Rain in several states has created worries about severe floods, while some states were hit by devastating floods. Kerala is on the road to recovery; however, it will take a long time.