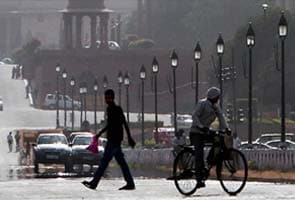 New Delhi:
A blistering heat wave swept through northern and eastern parts of the country on Tuesday claiming two lives in Uttar Pradesh.
The national capital recorded a maximum of 43.5 degree celsius, three notches above normal and a minimum of 26.8 degree celsius.
Two train passengers were found dead in Gorakhpur in Uttar Pradesh where the temperature touched 42.7 degrees Celsius.
In Punjab and Haryana, the heat wave intensified further with maximum temperatures hovering in the range of 42 degree celsius to 45 degrees celsius.
Scorching heat prevailed in Chandigarh with the maximum hovering at over 42 degrees Celsius.
Amritsar, Ludhiana, Patiala, Jalandhar in Punjab and Hisar, Ambala, Rohtak, Karnal, Gurgaon and Bhiwani in Haryana experienced a hot day, with the mercury hovering over 43 degrees Celsius mark at these places.
With an intense heat wave sweeping through Jharkhand, many towns in the state recorded temperatures above 40 degree Celsius with Garhwa district being the hottest place registering 46 degree Celsius for the fourth straight day on Monday .
Ranchi had another hot day at 40.1 degree celsius.