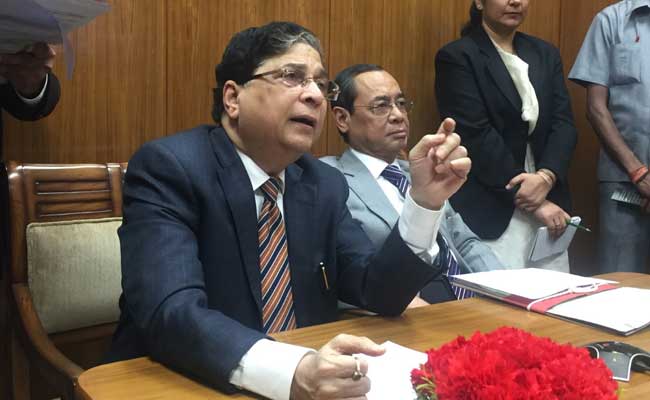 New Delhi:
Despite our differences, our friendship will continue, said Chief Justice Gogoi at a farewell dinner for former Chief Justice of India Dipak Misra in the national capital.
The Supreme Court Advocates-On-Record Association (SCAORA) organised a farewell dinner for Justice Misra in Delhi. The dinner was attended by the new Chief Justice, Justice Madan Lokur, former Attorney General of India Soli Sorabjee and several Supreme Court lawyers.
"In the last six years that we have worked together, we have had our differences and I know our friendship and healthy differences will continue beyond the court," Chief Justice Ranjan Gogoi said.
He revealed that sometimes he took notes from Justice Misra's judgments. Chief Justice Gogoi listed out plenty of Latin terms and left the audience confused and thinking that it must have been a description of something complex during a judgment.
Chief Justice Gogoi then said that Justice Misra had used those words to describe the national anthem, the audience was left in splits.
In the "Padmavat" judgement, Justice Misra had written a 142-word sentence, the chief justice said.
He jokingly warned the audience that they need to watch out for Justice Misra's biography whenever it comes out because the former chief justice once claimed that it would have only "two words".
Justice Gogoi remembered, "He (Justice Misra) plays tennis with a cricket ball. There were six wicket keepers the last time he played like that. We have had very good times together."
Later, Justice Misra said, "When there is a contest for fame, there will be unhealthy differences, but in a contest for friendship, differences are healthy. Healthy difference is an autograph of friendship and that is what Justice Gogoi and I have."
He thanked SCAORA for the event and for "all the good times spent with the Supreme Court lawyers" terming it as "You will kill me with kindness".
Chief Justice Ranjan Gogoi was one of the four most senior judges after the Chief Justice who had called a press conference in January and criticised the way sensitive cases were allocated. They had alleged that then Chief Justice Dipak Misra was abusing his status as "master of roster". Their concern revolved around the case of Justice BH Loya, who died in 2012. The case was assigned to a junior judge.