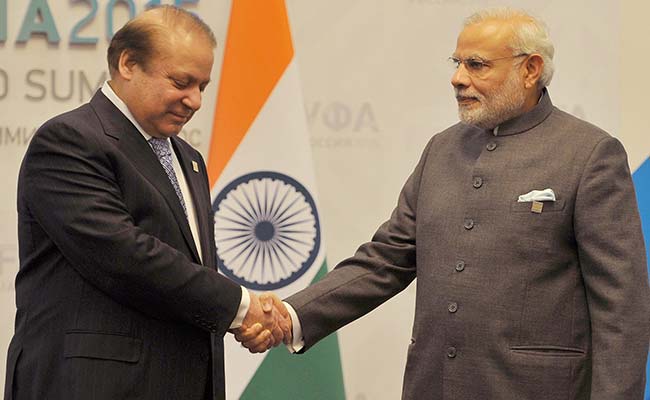 New Delhi:
Notwithstanding the cancellation of NSA talks, heads of border guards of India and Pakistan are expected to meet in New Delhi from September 9 to discuss ways to have peace on the frontier which has been volatile over the last several months.
Pakistan has confirmed the dates for the meeting between DG BSF and DG Pakistan Rangers even though it has pulled out of an international meet on drugs and narcotics slated for next month, official sources said today.
The DG-level talks will take place from September 9 to 13 in New Delhi, the sources said.
The sources said BSF and Pakistan Rangers have handed over to each other the agenda papers, in which both want to discuss the issue of repeated ceasefire violations.
BSF is keen to take up the issue of infiltration of terrorists from Pakistan, with the particular case being the recent one in which the infiltrators struck in Gurdaspur and Udhampur, the sources said.
The Indian border guards also want to take up the issue of smuggling of Fake Indian Currency Notes and drugs as also unauthorised construction of defence infrastructure, they said.
Confirmation by Pakistan for the DG-level talks comes despite it calling off the NSA talks last week after India made it clear that Kashmiri separatist leaders would not be allowed to meet Pakistani NSA Sartaj Aziz.
The decision on meeting of NSAs and heads of border guards was taken during talks between Prime Minister Narendra Modi and his Pakistani counterpart Nawaz Sharif in Ufa, Russia, on July 10.
Meanwhile, Pakistan has backed out of a meeting on drug abuse and smuggling in Asia-Pacific region which was expected to take place next month.
The sources said Pakistan has expressed regret that it would not be attending the meeting to be held here in which South Asian countries of 'Colombo Plan' were to participate.
The 'Colombo Plan' was formed in 1951 at the Commonwealth Conference on Foreign Affairs with an aim of bringing about Cooperative Economic and Social Development in Asia and the Pacific regions.
It has 27 member countries at present including the US, India, Pakistan, Afghanistan, Australia, Iran, and Saudi Arabia.
Pakistan's absence at the conference is seen as a setback since the country is one of the sources and important route of drug smuggling into Central Asia and Europe, the sources said.