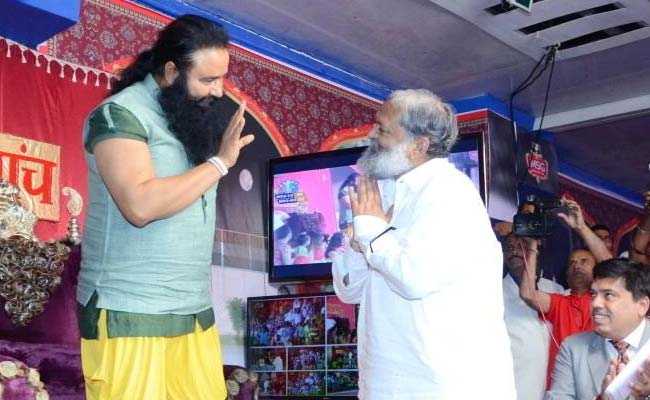 Highlights
Vij announced donation to promote games like kabaddi, kho-kho, wrestling
Games played at the Dera not played at national, international level
Opposition's work is to oppose, says Vij defending donation
Chandigarh:
Haryana sports minister Anil Vij has scripted a new controversy with the opposition questioning his donation of Rs 50 lakh in state funds to the rich Dera Sacha Sauda sect headed by self-styled godman Gurmeet Ram Rahim.
"The Opposition's work is to oppose, what can I say about it," said the minister, who made the donation from a discretionary fund after witnessing a sport called the Tiranga Rumaal Chu at the Dera headquarters in Sirsa over the weekend.
So impressed was Mr Vij that he immediately announced the donation to promote games like kabaddi, kho-kho and wrestling; the Dera's Tiranga Rumaal Chu was a combination of three sports said the minister, optimistic that the funds would help in training players for the next Olympics.
The games played at the Dera are designed by Gurmeet Ram Rahim and are not played at the national or international level.
"The money will help create better infrastructure for games in rural areas. This institute has given good players," said Ram Rahim, who makes public appearances in colourful costume and bling, often on a Harley Davidson motorbike. Mr Rahim has also starred in a film called MSG, Messenger of God and its sequel.
"I hope in the next Olympics, players from this institute win medals for the country," said Mr Vij, whose last controversy came only two weeks ago when he landed up in Rio for the Olympics with a team of lawmakers and officials to "cheer for Haryana athletes", spending one crore from tax payers' money.
"This is the people's money. Those who are in need are not helped," said Ali Anwar of the Janata Dal-United.
Tariq Anwar of the Nationalist Congress Party said, "If this would have been given to a sportsperson then it would have been good."
.
In January 2015, a case was registered against the Dera chief for allegedly sexually exploiting female followers at the sect's headquarters in Sirsa, about 250 kms from Delhi.
The Dera Sacha Sauda, which has millions of followers and is one of the richest in the country, had supported the BJP in the last Haryana assembly elections and that was seen as an important factor in its first ever victory in the state.