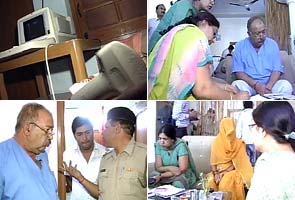 Karnal:
According to the latest census figures, Haryana ranks lowest among all 28 states in India on the sex ratio front. Against Kerala's 1,084 females per 1,000 males, Haryana reports a sorry number of just 877.
Compared to the last census in 2001, the state has, however, reported a rise in sex ratio figures - up from 861 to 877 females per 1,000 males. This is also the best in the state since the first census in the country in 1901. But that's no excuse. It still has the worst figures.
Many girl children in the state are never able to see the light of the day, courtesy the unchecked, illegal sex determination clinics here. Touts play a big role in running this business. They bring pregnant women to these clinics where doctors charge around 5000 to 10000 rupees for each test. Here's an NDTV report on how one such test was caught on camera during a government raid in Karnal district of the sate:
Three women enter a house in a posh locality of Karnal. This is an illegal sex determination clinic. We follow them with our camera. A few minutes later, a Health Department team reaches the house and raids the clinic run by a local doctor. The raiding party finds an ultrasound machine and a woman who had come for a sex determination test. Two other women escaped from the back door.
According to sources, this doctor conducted sex determination test on at least a dozen pregnant women daily. Most of these women are from villages. They are brought here by touts.
Neelam, who was caught by the raiding team is three-months pregnant and has a three-year-old daughter. Her family now wanted a boy.
"I had come for ultrasound. But mine did not happen," she said.
Caught red-handed, Dr Brij Sharma was trying to look for excuses. His clinic was sealed by the Health Department last year after they received complaints against him.
"There is no body inside. I don't do any test here," he said.
The doctor claimed that the ultrasound machine was very old and was not working, but we found that the machine was in perfect order. It was indeed a hi-tech, portable machine.
The raiding team lodged a complaint in the police station for registering a case under the law against pre-natal sex determination tests.
Instead of taking any action and admitting to the lapses on their part, local administration officials also put the blame on individuals option for the test.
"I can say it is a collective responsibility of all the responsible citizens of the society to check this menace which is taking place not only in Haryana but throughout the country as you may have seen in the census report also. This is not a healthy trend for our society," said Neelam P Kasni, Deputy Commissioner, Karnal.