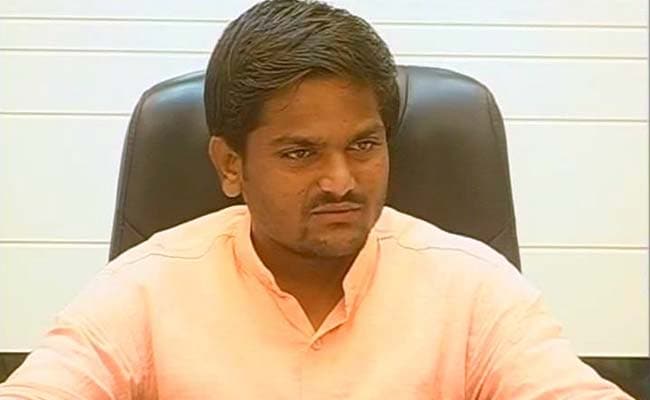 Vadodra:
Hardik Patel, a 21-year-old politician who has suddenly grabbed headlines as the leader of a 40-day agitation in Gujarat, launched a sharp attack on the BJP government in the state today, accusing it of neglecting the Patel community.
Mr Patel is at the forefront of the influential community's demand for reservation in government jobs and admission to schools and colleges.
Made famous by videos posted on YouTube by his supporters in which he poses with weapons and is portrayed as a firebrand leader, Hardik Patel quite played the part at a rally in Vadodara today, challenging the government in a speech that had a 25,000-strong crowd cheering.
"It is this Patidar community that made ministers, elected the Chief minister and ensured victory for the BJP in all 26 Lok Sabha seats. But if you hurt this community, the government will collapse the way a chair collapses if two of its legs are pulled out from under it," the young leader thundered.
Virtually unknown two months ago, Hardik is causing the state government much concern. Attempts at talks with the protesting Patels, seen as a BJP votebank, have not yielded results. Hardik Patel, whose father is a BJP leader, says his Patidar Anamat Sangathan, which has now assumed a critical role in the ongoing agitation, owes allegiance to no political party.
The Patels have held protests every day and young members of the community are prominent in their participation. Another young face of the campaign, a junior doctor, Parth Patel, skipped work at the Vadodara government medical college to participate in today's rally.
"Our community has been deprived of various benefits... and despite being top rankers we don't get jobs... either you remove reservation or include us in OBCs (Other Backward Castes)" said Parth Patel.
To add to the state government's worries, a rally to counter the Patels is now being planned by other communities in Ahmedabad on Sunday.