Highlights
Narendra Patel says was offered money to cross to the BJP
Another Patel movement member who switched earlier denies charge
Patel quota stir led by Hardik Patel poses challenge to BJP before polls
Ahmedabad:
A senior member of the Hardik Patel-led group campaigning for reservations for the Patel community has alleged that he was offered Rs 1 crore for crossing over to the BJP. The charges could hurt the state's ruling party as it rallies support ahead of state election due by the end of the year.
Narendra Patel, convenor for the Patidar Anamat Andolan Samiti or PAAS in north Gujarat, joined the BJP on Sunday evening in the presence of Hardik Patel's former aide Varun Patel who had
crossed over to the BJP the day before
.
Narendra Patel alleged that he had been offered Rs 1 crore by the BJP through Varun Patel to switch sides. He said that he had decided to take the money and parade it before the media to expose Varun Patel and the BJP.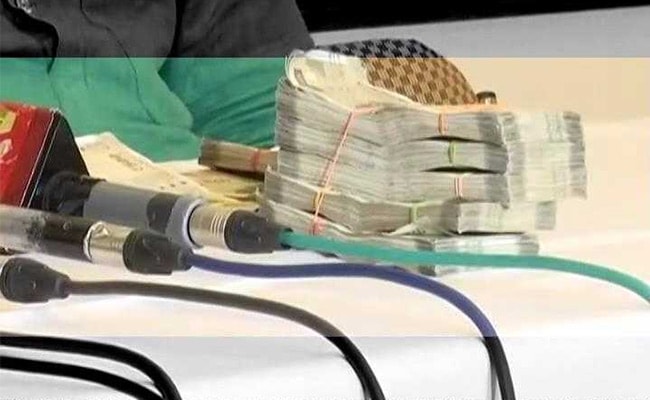 "Varun Patel made a Rs 1 crore-deal with BJP for me. He gave 10 lakh rupees in advance. They are going to be give me Rs 90 lakh rupees tomorrow but even if they give me the entire Reserve Bank (of India) they will not be able to buy me," he said, dramatically spreading out the bundles of cash that he said were handed over to him, at a late-night press conference.
The charge has been denied by Varun Patel. "The allegations are baseless and motivated by Congress as the party fears that Patidars are swinging back to BJP after realising the Congress gameplan," Varun Patel said.
The allegations come a day after Varun and Reshma Patel, another member of the PAAS, joined BJP, alleging that the Congress was trying to hijack the reservation stir.
Dismissing Narendra Patel's claims as "false allegations", BJP spokesperson Bharat Pandya said, " Narendra Patel's U-turn was a pre-planned drama... Congress cannot sway the people of Gujarat with this kind of drama."
The defections by members of the Patidar agitation had raised hopes of the BJP's ability to contain the damage to its support base among Gujarat's powerful Patel community. At the height of the movement in 2015, calling for quotas in government jobs and colleges, it had posed a huge challenge to the ruling BJP and added to reasons behind then Chief Minister Anandiben Patel's ouster and the anointment of Vijay Rupani as her replacement last year.