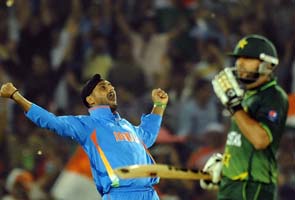 Jalandhar:
Ace Indian spinner Harbhajan Singh on Tuesday hit out at Pakistan skipper Shahid Afridi for his out-of-turn reaction on Indians and their supposedly lack of big-heartedness.
"If Indians were not large-hearted, they wouldn't have made so much of progress and delivered growth," said an angry Harbhajan, reacting to Afridi's controversial remarks that Indians cannot be as large-hearted as the Pakistanis.
"I think it's been an uncalled for reaction. It wouldn't help the love and respect with which he is treated in this country."
Afridi, in a television interview, had berated Indians for their "lack of large heart, unlike Muslims and Pakistanis" and criticised Indian opener Gautam Gambhir for dedicating the win over Pakistan to victims of 26/11 attacks in Mumbai.
After his remarks created a furore, Afridi did a volte-face, claiming that he was misunderstood and quoted out of context.
(Watch: Nothing like India's pyaar, says Afridi)


"Media makes a big deal of small issues. It is shameful. I have always done my bit to improve Indo-Pak ties but sometimes you say something and it is interpreted the other way. I have been quoted out of context," Afridi said.