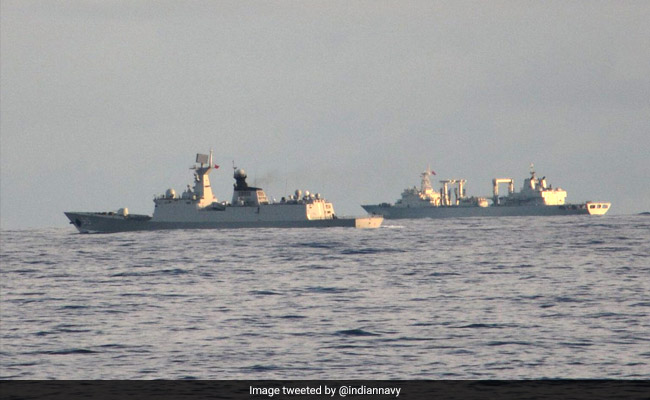 Highlights
Indian Navy asserted its strong presence in the Indian Ocean
Navy said its 50 ships were on constant vigil
China using anti-piracy patrols for increasing presence in Indian Ocean
New Delhi:
The Indian Navy on Tuesday tweeted a "warm welcome" to
three Chinese warships
in the Indian Ocean, tongue firmly in cheek. "Happy hunting", the navy said in two tweets that effectively asserted, with a dash of humour, its strong presence in the Indian Ocean and close tracking of Chinese vessels in the region.
The tweets were posted with photos of the Chinese anti-piracy vessels which, according to the website of China's PLA or People's Liberation Army, have 700 soldiers and two helicopters on board. An official said the posts were a message that China's moves are being watched.
#MaritimeDomainAwareness@indiannavy extends a warm welcome to the 29th Anti-Piracy Escort Force (APEF) of PLA(N) in Indian Ocean Region (IOR). Happy Hunting @SpokespersonMoD@DefenceMinIndia@IAF_MCC@adgpi@IndiaCoastGuard@IndianDiplomacypic.twitter.com/7NTW4TwQuW

- SpokespersonNavy (@indiannavy) April 17, 2018
The Navy also said its 50 ships were on constant vigil to keep its AOR (Area of Responsibility) safe. It tweeted a map to drive home the constant surveillance of Indian warships in the region.
#MissionBasedDeployments From Persian Gulf to Malacca Straits & from Northern Bay of Bengal to Southern Indian Ocean to East coast of Africa @indiannavy with 50 ships on vigil 24X7 keep our Area of Responsibility (AOR) safe. @indiannavy Anytime, Anywhere Everytime @nsitharamanpic.twitter.com/rxmBAed5Sa

- SpokespersonNavy (@indiannavy) April 17, 2018
The warships left the Chinese port of Zhoushan on April 4 for the Gulf of Aden to carry out anti-piracy missions off the Somali coast. They entered the Indian Ocean through the straits of Ombai Wetar in Indonesia.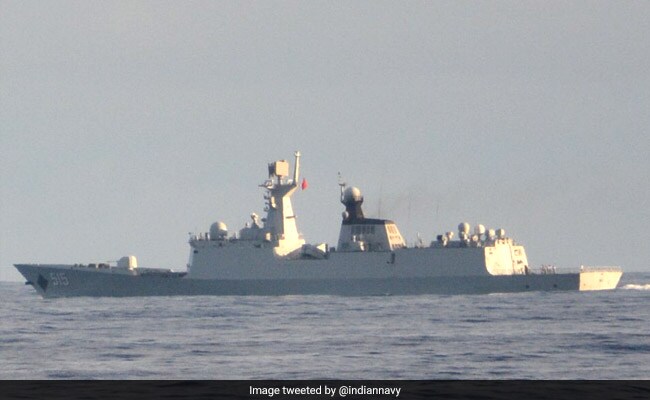 According to the navy, China has used anti-piracy patrols and freedom of navigation as the reasons for its increasing presence in the Indian Ocean.
Besides ships, the navy is amping up its surveillance using long-range maritime reconnaissance aircraft, the Boeing-made Poseidon 8I planes, which fly sorties, sometimes up to the South China Sea, almost every day.
Currently, the Indian Air Force is
rehearsing wartime manoeuvres
over the region under Exercise Gaganshakti 2018.