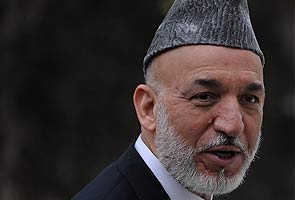 Mumbai:
Afghanistan President Hamid Karzai arrived in Mumbai on Friday afternoon on a four-day visit during which he would discuss with Indian leadership the regional security situation and explore ways to enhance New Delhi's engagement in rebuilding efforts in the war-torn nation.
Mr Karzai's talks with Prime Minister Manmohan Singh on November 12 in Delhi would include a broad spectrum of issues like safety of Indian nationals and its assets, besides greater role for India in training Afghan security forces.
The Afghan President is also expected to apprise India of the status of peace process and the efforts made by his government to prepare for the post-2014 scenario when Western combat forces are slated to commence pulling out troops from Afghanistan.
Mumbai, the country's financial capital, is the first port of call for the Afghan leader, who will attend a dinner hosted by Maharashtra Governor K Sankaranarayanan in his honour.
He will engage with leaders of Indian businesses to seek investments for his country, ravaged by decades of conflict, at a session organised by Confederation of Indian Industry (CII) and other chambers of commerce on Saturday.
Having committed a $2.3 billion aid programme, India, one of the largest donors to Afghanistan, is investing in its economy, humanitarian aid, education, development, construction and electrical projects.
Ahead of Mr Karzai's visit, the government had on Thursday cleared another tranche of development aid to the tune of Rs 540 crore for Afghanistan.
The Union Cabinet, at a meeting chaired by the Prime Minister, approved the third phase of the Small Development Projects (SDP) to be implemented across all the 34 provinces of Afghanistan.
Under the first two phases of the SDP, India has built a number of basic health clinics, schools, child hospitals and dug borewells across border provinces of Afghanistan, directly impacting the lives of local communities.