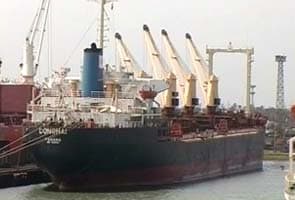 Kolkata:
Haldia Bulk Terminals (HBT), promoted by ABG of India and Louis Dreyfus Armateurs (LDA) of France, today retrenched 348 more employees, taking the total number of employees sacked to over 600 as part of its winding up process.
"HBT is left with no option but to retrench its 348 employees from today," the company said in a statement. Problems have been brewing at Haldia Dock Complex, run by Kolkata Port Trust (KoPT), after berth operator HBT retrenched 275 employees earlier this month stating they were surplus.
Reacting to today's development, Kolkata Port Trust (KoPT) acting Chairman Manish Jain said HBT would not be allowed to get away without penalty. Mr Jain also said ABG was keen to continue in the Netaji Subhas Dock (NSD) and had made a bid for berth 5 of NSD in the city as Kolkata dock container cargo jumped by 15 per cent this year.
Haldia, however, had witnessed 17 per cent drop in dry bulk cargo in September as against 12 per cent till April-August period 2012. "This shows they are trying to run away from wherever they are seeing drop in business and want to jeopardise KoPT along with the trade in the east," he said.
KoPT had overlooked some of the violations of the contract only to keep it going, he added.
"There has been change in shareholding by ABG-LDA in violation and they have also refused unloading of cargo from wagons meant for export," he said.
HBT on October 31 announced its exit from West Bengal's Haldia port citing unsafe work conditions.