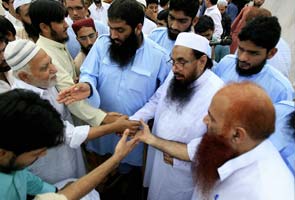 New Delhi:
Delhi has been put on high alert after an Intelligence Bureau (IB) input based on a speech delivered by
Hafiz Saeed
, the mastermind of 26/11 terror attacks in Mumbai, last month.
Sources say the intelligence agency gathered inputs that Saeed could be planning an attack in the capital. The IB has issued alert for other metros as well.
Saeed, meanwhile, led Eid prayers at Lahore's famous Gaddafi stadium on Friday. Despite India's repeated requests that he be brought to justice and a 10 million dollar US bounty on his head, Saeed remains a free man in Pakistan.
Posters of Saeed dotted Lahore and he tweeted Eid greetings with a strong anti-India message; these are likely to have direct impact on the tension between India and Pakistan over the killing of five Indian soldiers at the Line of Control or LoC this week by terrorists backed by the Pakistani Army. It could also further impact the scheduled meeting between the Prime Ministers of the two countries in New York next month.
Though the Indian government has not yet officially commented on whether the assault on the jawans will alter the New York plan, sources say it is clear that "business as usual" will not continue with Pakistan and that the neighbour will have to effectively demonstrate its commitment to curbing attacks in India. (
Read: Nawaz Sharif wants to meet PM Manmohan Singh, India not committing yet
)
Sources said India is likely to delay its response to Islamabad's proposal for secretary level talks on issues like the Wullar Barrage, the Tulbul Navigation Project and Sir Creek.
On Thursday, newly-elected Pakistani Prime Minister Nawaz Sharif tried to ease tensions by urging both sides to work swiftly to shore up a 10-year ceasefire. Mr Sharif expressed his sadness over the loss of life and said it was "imperative" for India and Pakistan to take "effective steps to ensure and restore" the truce.
But just a day later, Saeed's posters in Lahore, put up by his Jamaat-ud-Dawa (JuD), the parent body of the banned terror group Lashkar-e-Taiba that carried out the 2008 attacks in Mumbai, openly invite people and the media to attend the prayers that Saeed will lead.
Saeed has often been seen addressing anti-India rallies in Pakistan's capital, Islamabad. Pakistan says it has no proof against him; it arrested him thrice after India's allegations against him, but on all occasions he was let off by court.
A total of 166 people were killed in the LeT terror attack in India's financial hub of Mumbai in November 2008.