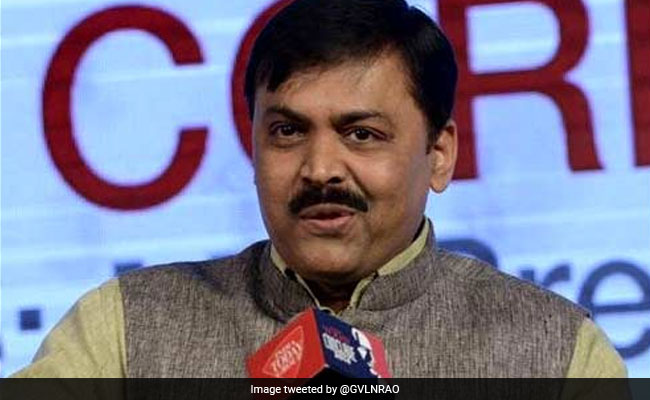 New Delhi:
BJP lawmaker GVL Narasimha Rao has written to the Ethics Committee of the Rajya Sabha, alleging involvement of TDP lawmakers CM Ramesh and YS Chowdary in "massive financial bungling and fraud" and has sought their disqualification over a "serious breach of ethics."
"I've complained to Ethics Committee to sought disqualification of the TDP MPs -- YS Chowdary and CM Ramesh --, who have earned the dubious title of 'Andhra Mallyas' with massive financial scandals. Chowdary defrauded banks of Rs 5,700 crore and Ramesh evaded hundreds of crores in taxes," Mr Rao, a Rajya Sabha member from the Bharatiya Janata Party (BJP), said in a tweet.
Mr Chowdary was Minister of State for Science and Technology in the Prime Minister Narendra Modi-led government before the Telugu Desam Party (TDP) pulled out of it in March this year.
The letter has been written to Narayan Lal Pancharia, the Chairman of the Ethics Committee.
"I am writing to bring to your kind notice serious breach of ethics on part of two members of Rajya Sabha namely CM Ramesh and YS Chowdary. Both are involved in allegations of massive financial bungling and fraud," he said.
Mr Rao said he has submitted "documentary proof" of allegations against the two leaders.
"Ramesh is involved in benami operations and evaded income taxes running into hundreds of crores. His public conduct has also been repugnant and unbecoming of an MP. In a recent TV debate, he has used obnoxious language and slur language against me, unbecoming of an MP," he said in the letter.
Mr Rao said that because of such cases of financial misappropriation and misconduct, the stature of Parliament and public faith in the great institution has been "damaged".
He said that the Rajya Sabha has suffered a serious dent to its image due to financial allegations against Vijay Mallya, a former member of the house.
He alleged the case of YS Chowdary was even more serious than Vijay Mallya's, "as his business operations remain shady and seems thousands of crores" have been borrowed using political clout and patronage."
"YS Chowdary has been charged by several public sector banks of defrauding them and registered FIRs against his companies which resulted in the Enforcement Directorate probe," he said.
The BJP leader said it is the mandate of the Ethics Committee to ensure that Members of Parliament (MPs) maintain high standards of integrity. "I am writing to you to examine my complaint and to initiate suitable action against the two members to ensure the dignity and respect of Parliament is restored," Mr Rao said.
He also demanded that Chowdary should recuse himself from the deliberations in this matter except as an accused appearing before the committee to offer his explanations, as he was a member of the committee.
Mr Chowdary had denied the allegations a day after the Enforcement Directorate (ED) conducted raids on his firms and issued him summons.
He has said that none of the companies established by him were involved in any irregularities and termed the allegations as a conspiracy by the Centre to politically harm him.