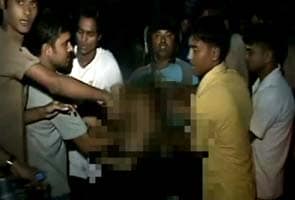 Guwahati:
Opposition AIUDF legislators on Wednesday staged a protest in front of Raj Bhavan over the July 9 public molestation of a girl on a main road here and other crimes that have rocked various parts of Assam in the recent past.
A total of 17 legislators of the All India United Democratic Front (AIUDF) staged demonstration against what they termed as the government's failure to check the rising crime graph in the state and increasing "lawlessness".
The AIUDF, the BJP and the Asom Gana Parishad had earlier walked out of the Assam legislative assembly on the first day of the monsoon session Monday over the G.S. Road molestation that has shocked the nation.
While a group of men publicly molested and stripped a teenage girl outside a pub in this main city of Assam on July 9, RTI activist Akhil Gogoi was also attacked by miscreants in Nalbari district recently.
Woman Congress legislator Rumi Nath was also attacked by group of a mob in Karmganj town of Barak Valley on June 29.
"People are very unsafe in the state now. In recent time, attacks on MLAs, social activists and particularly on women have increased manifold. There is a complete lawlessness and the government is not doing anything," AIUDF leader Sirajuddin Ajaml told IANS.
"Besides, the heinous molestation of a teenage girl on the G.S. Road in Guwahati on July 9, our party member Tufail Ahmed was killed a few days back. Congress legislator Rumi Nath was severely beaten up. Social activist Akhil Gogoi was also attacked. If legislators are not safe under the present government, how can common people feel secure," he said.
Ajmal and BJP legislator Prasanta Phukan, who are Public Accounts Committee chairman and member respectively, were attacked by goons at Nagaon district in May this year.
"Today, we came in front to Raj Bhavan to highlight the sad state of affairs in Assam. Peace has become an elusive thing the state. Our protest will continue till the government takes action against those involved in the crimes," he said, adding that the party will take the protest to Delhi if no steps are taken by the state government.