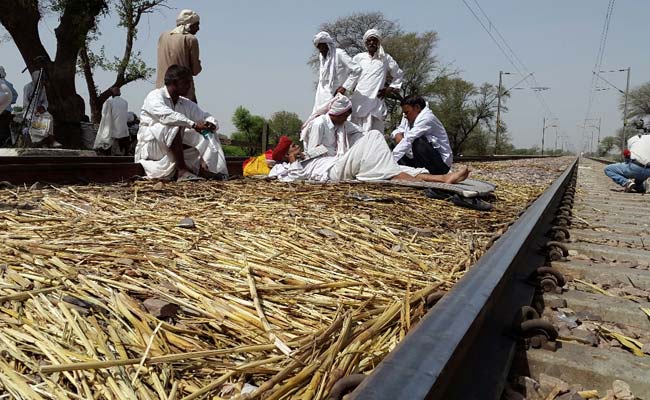 Jaipur:
The first round of talks between leaders of the Gujjar community and Rajasthan government to discuss the issue of five per cent reservation in government jobs has failed. More than 100 trains have been cancelled and an equal number have been diverted because of the protest by Gujjars which has entered its fourth day today.
The representatives of the Gujjar community who met Rajasthan ministers Rajendra Rathore, Arun Chaturvedi and Hem Singh Bhadana in Bayana on Saturday accused the state government of not coming up with concrete proposal.
"The talks have failed because the ministers came without any clear proposal to address our demands," Gujjar leader Kirori Singh Bainsla told reporters after the meeting.
Spokesperson of the 'Gujjar Arakshan Sangharsh Samiti' Himmat Singh said that the agitation would be intensified if the government did not come up with a concrete proposal to provide reservation to Gujjars under the legal limit of 50 per cent.
While minister Rajendra Rathore said that another round of meeting would take place on Monday in Jaipur, Gujjar leaders did not confirm whether they would attend the meeting and returned to the agitation venue in Bharatpur where 500-700 members of the community are present at the railway tracks.
Leaders of Jat and Other Backward Classes (OBC) community, meanwhile, opposed the demands made by Gujjars, saying it will reduce OBC quota.
"Gujjar leaders are asking the state government to create a Special Backward Class (SBC) category within OBC quota. It will reduce the OBC quota which accommodates 91 castes in Rajasthan. Their demand is unfair," said Rajaram Meel, president of Rajasthan Jat Mahasabha said.
He said that the community will not tolerate classification in OBC quota and can go to any extent to save the reservation, Meel said.
Gujjars have been demanding reservation since 2007. They were given 5 per cent reservation in a separate quota, but as that exceeded the 50 per cent quota mandated by the Supreme Court, the matter is now caught in a legal tangle and is being heard in the Rajasthan High Court.